Welcome to the Shaver's Creek blog! The entries here are posted by staff, interns, and volunteers, and aim to keep you informed about the programs, updates, and natural history happenings here at the Creek. Enjoy!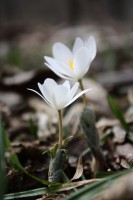 One of the earliest spring blooms in Pennsylvania, bloodroot (Sanguinaria canadensis) is easily recognizable by its white petals, yellow reproductive parts, and bright red sap. The colorful sap, toxic in bloodroot, ...
We continue to welcome back our returning migrants. An Eastern phoebe has been singing for a couple of weeks now, and was joined this weekend by ...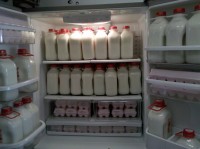 Pre-festival fridge at Shaver's Creek! Thank you Meyer Dairy!
Shaver's Creek would like to let all Penn State students interested in the outdoors to know that a representative from the National Outdoor Leadership School (NOLS) ...
What a great weekend at the Fest! Over 1,800 attendees despite the cold! About 150 Penn State student volunteers too. A great time to ...