Come celebrate the arrival of spring, the return of wildflowers, and the beginning of another gardening season at the Central Pennsylvania Native Plant Festival at the Boalsburg Military Museum! Enjoy a walk, talk to plant experts, and join us for our scheduled educational walks and programs. In addition to expert speakers, we'll have native plants and local foods for sale.
On the first Saturday of every May, Shaver's Creek partners with the Pennsylvania Native Plant Society to host this annual festival. PLEASE NOTE that we've changed the location of this joint festival to the Boalsburg Military Museum in Boalsburg, PA. We invite you to celebrate the interrelationships between native plants and our resident bird species with the combination of the Native Plant Festival and our 24-hour Birding Cup fundraiser on the same weekend!
Admission to the festival is free, but please come prepared to support our vendors through purchases of plants and/or local food! A portion of the proceeds from the Native Plant Festival will go toward supporting Shaver's Creek.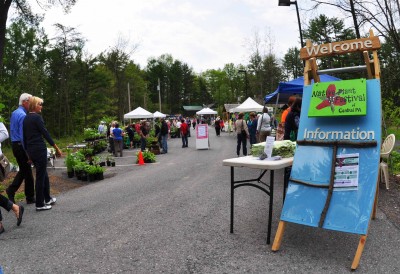 2016 Educational Walks and Programs
In addition to a smorgasbord of native plant species for sale, the festival offers a variety of free educational programs designed for visitors to enjoy during their visit. Walks and programs scheduled for the Native Plant Festival include:
Identifying Native and Invasive Plants (11:00 a.m.)
Walk and learn how to identify native and invasive plants and why this is such an important
issue.
Presenter: Eric Burkhart, Plant Science Program Director, Shaver's Creek Environmental Center

Stream Restoration with Native Plants (1:00 p.m.)
Walk with us and see what can be done to restore stream beds to preserve water quality and
improve wildlife. 
Presenter:  Katie Ombalski, Conservation Biologist, ClearWater Conservancy

Native Plant Gardening Resource Tables (All day)
Have questions about native plants? Wonder which native plants will do best in your yard or landscape? Stop by the PNPS "Ask a Sage" table, visit the Penn State Extension Master Gardeners booth, or chat with any of our plant vendors.
Native and Wild Plants in Pennsylvania Information Table (All day)
Chat with knowledgeable folks from the Pennsylvania Department of Conservation and Natural Resources (PA DCNR) Wild Plant Program about native plants and native plant conservation initiatives in Pennsylvania!
Shaver's Creek Meet the Birds of Prey Program (1:30–3:00 p.m.)
Meet some of Shaver's Creek resident raptors up close and learn interesting facts from our expert volunteer Carli Dinsmore!You'll have opportunities to touch raptor wings and talons, as well as ask plenty of questions! Visit our Meet the Creek page for more information on regular birds of prey shows.

Support Pennsylvania Native Plant Vendors
Each year, we invite local vendors of native plants and local food to the Native Plant Festival. Vendors scheduled for 2015 include:
Plant vendors:
Common Ground Organic Farm (Spring Mills, PA)
Enchanter's Garden (Hinton, WV)
Fox Hill Gardens (State College, PA)
Go Native Tree Farm (Lancaster, PA)
Moonstruck Gardens (Stormstown, PA)
Musser Forests (Indiana, PA)
Perennial Gardens (New Bloomfield, PA)
Spring Haven Nursery (Newburg, PA)
Wing Haven Nursery (Coburn, PA)
For a preview of available plants from these vendors, download the 2015 Plant List (PDF here). Contact a vendor directly to place a pre-order.
Food vendors:
Eden View Organics (Tyrone, PA)
We hope to see you at the next Central Pennsylvania Native Plant Festival and Sale!