Welcome to Shaver's Creek! The following pages are designed to give you an idea of what to expect from your visit to Shaver's Creek Environmental Center, whether you've never been here before or you're a frequent visitor looking to explore new territory. Check out each of these pages to learn more about each facet of Shaver's Creek.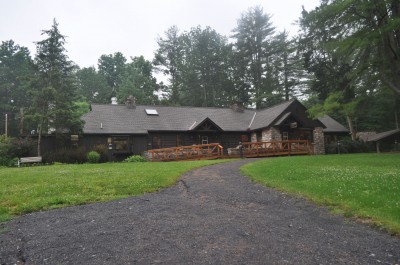 Discovery Room
We invite you to explore our Discovery Room, situated in the heart of our nature center and packed with educational, interactive exhibits interpreting the natural world. Penn State students create many of our exhibits during the Discovery Semester each spring. The Discovery Room is also the place to see our resident reptiles and amphibians, including turtles, snakes, frogs, and toads.
Picnic Areas
Enjoy an outdoor meal with family and friends at one of our Picnic Areas scattered around the center. Have your picnic atop our beautiful, Amish-crafted hardwood tables in the front yard and outdoor classroom, under a covered structure on one of our hiking trails, or while appreciating Lake Perez from the boardwalk or Sunset Pavilion.
Bookstore and Gift Shop
No visit is complete without a visit to our Bookstore and Gift Shop to grab a trail map and hear about the latest happenings in the natural world. Peruse our great selection of nature books for kids, provocative environmental writing, and nature field guides for a variety of topics — from ferns and fungi to bugs and birds. The gift shop carries such Shaver's Creek apparel as T-shirts, hats, and hoodies, plus Audubon plush birds, jewelry, greeting cards, bird feeders, locally made gifts, and more.
Raptor Center
Our Raptor Center makes for an unforgettable experience. Take a close look at more than 20 resident birds of prey, including eagles, hawks, and owls. Our raptors are nonreleasable, and many have visible injuries and fascinating stories. Ask a staff member on-site for more information about the birds, check out our descriptive bird biographies, or attend a Meet the Birds weekend show.
Hiking Trails
The Hiking Trails around Shaver's Creek offer the chance to explore a variety of habitats, ripe with opportunities for bird watching and plant identification. Investigate our wheelchair-accessible and stroller-friendly path to the boardwalk, the more adventurous Lake Trail, or one of our many other trails of varying lengths. Don't forget a trail map!