Joining or renewing your membership with Shaver's Creek is easy with our Registration Portal!
This Registration Portal is also used to register for Shaver's Creek Summer Camp programs (in mid-January for members who have joined by December 31; in mid-February for members who join on January 1 or later). The system allows individuals to have separate accounts if desired, families to share a membership, and any parent to enroll their children in camp programs!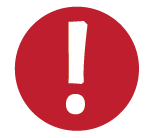 Most of the process is very straightforward, but please make sure that your children have been added to your family membership by going to "My Account," scrolling down and clicking on "Memberships," and clicking on the pencil icon to add all children to the membership. Otherwise, you may experience errors or the membership discount may not be applied.
Create an Account for Your Family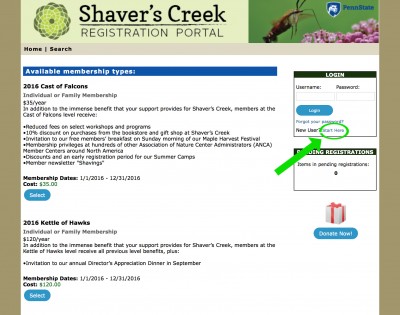 Navigate to the Registration Portal. Under the Login form, next to "New User," click "Start Here."
Fill out the necessary information to create the account.
Navigate to "Select Membership" at the top of the page to select your membership giving level and complete payment.
Be sure to add your children to the Membership.

You may verify your membership by navigating to "My Account" and selecting the "Memberships" tab. Once you complete payment, your membership will be considered active.

Please note: Family accounts have a "primary" contact and only that person is able to add children to the account. In addition, the primary is the only person who may purchase a family membership or make other changes to an account. If you would like the primary user on your account to be changed, please contact Marie Taylor at mea9@psu.edu.
Under "My Account," navigate to the "Contacts" tab and click "Add new child…"
IMPORTANT STEP: Navigate to "My Account," click on your "Memberships" tab, and the pencil icon to edit. Make sure everyone's name is checked, and they are part of your family membership!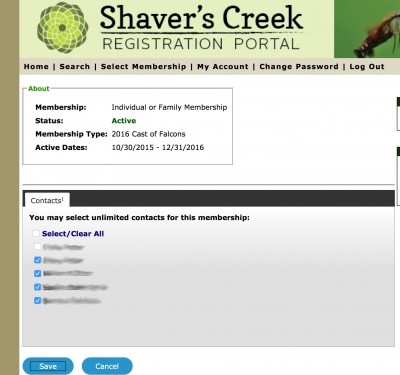 Save a credit card and add your children into the system before January, and you will be all set to hit "submit" on the morning of camp registration!
Register Your Children in Summer Camps
When summer camp registration opens for members in mid-January:
Navigate to "Search" at the top of the Registration Portal.
Select the appropriate summer year in the "Season" pull-down and hit "Search."
Select the camp session you wish to enroll your children in. As long as their information is already in the system (see previous step), just check the box next to their name.
Upon checking the box, a window will open that prompts you to answer a few questions, such as your child's T-shirt size and camp buddy request.
After hitting "Save" in this pop-up, continue the checkout process. After payment is completed, your child is registered for camp!
You will be prompted to download a health history form (PDF). This form must be returned to us by mail or fax within two weeks of registration.
Add Additional Adults to Your Membership (optional)

If you are the primary contact, you may also add additional adults to your account by following the previous steps, by using the "Add new adult…" option. Adults should be limited to immediate family (ex., parents, domestic partners, guardians). If you have a special circumstance, or confusion about who may be included, please contact us. These "secondary adult" accounts will have their own username/password, and may enroll children in summer camps, but they do not have privileges to purchase memberships or add/edit children. If you would like to change the primary adult on your account, please contact Marie Taylor at mea9@psu.edu.

Under "My Account," navigate to the "Contacts" tab and click "Add new adult…"
Fill in the necessary information. Adult accounts also include their own username and password, so be sure to share that with the person you are creating an account for.
Their account is created after hitting "Save." They can then log in to the Registration Portal and may change their username/password (see previous instructions).
To ensure they are part of the membership, go back to "My account" and click on the "Memberships" tab, then the pencil icon to edit. Check all people in your account.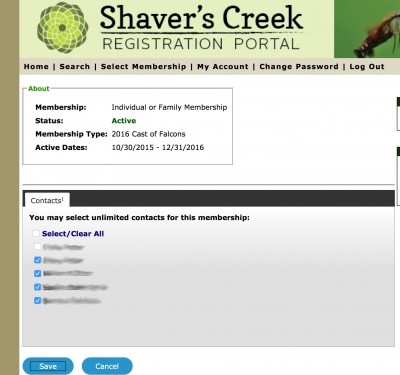 Troubleshooting
Sometimes, if the Registration Portal has been open too long in your browser, it will time out and you'll see this error:

If this happens, please return to the main Registration Portal page and start over.
If you are having further difficulties, please do not hesitate to call Shaver's Creek at 814-863-2000.