Save some gas (for your wallet and the environment!) by taking the bus to Shaver's Creek for the Maple Harvest Festival!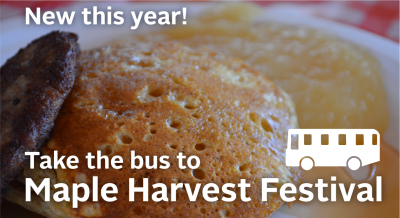 Special Price: $5.00/person for ages 12 and up — 11 and under FREE. (Members and nonmembers)
Check back later for information on taking the bus to the 2018 Maple Harvest Festival!
2016 Schedule:
10:15 a.m. — Arrival and check in at the HUB with your Shaver's Creek host. The HUB Parking Deck is free on weekends.
10:30 a.m. — Bus leaves the HUB
11:00 a.m. — Arrive at Stone Valley (a host will guide you to the festival, about a ten minute walk)
Enjoy the festival and pancake breakfast at your own pace.
2:45 p.m. — Meet at the Lake Trail trailhead to walk back to the bus
3:30 p.m. — Arrive back at the HUB!
Please bring: layers, water, appropriate clothing and shoes — trails may be muddy/wet.
Strollers are not permitted on the bus.
There is a 40-person max each day for the bus. People will be accepted on a first come first serve basis.
Pre-registration (and payment over the phone) is required. Simply call Shaver's Creek at 814-863-2000!
The special price of $5.00 per person only applies to those who ride the bus.