Celebrate the arrival of spring, the return of wildflowers, and the beginning of another gardening season at the Central Pennsylvania Native Plant Festival at the Boalsburg Military Museum! Enjoy a walk around the grounds, talk to plant experts, and join educational walks and programs. In addition to expert speakers, there will be native plants and local foods for sale.
This annual festival was previously co-hosted by Shaver's Creek and the Pennsylvania Native Plant Society, but grew far beyond what we can contain on the lawn at the Center. Starting in 2016, the PA Native Plant Society kindly took the lead to continue the event at the Boalsburg Military Museum in Boalsburg, PA, on the first Saturday of May.
Please find more information about this year's festival on the PNPS website!
Admission to the festival is free, but please come prepared to support the vendors through purchases of plants and/or local food!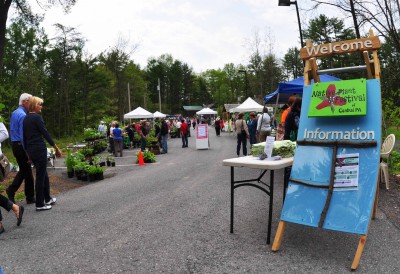 In addition to a smorgasbord of native plant species for sale, the festival offers a variety of free educational programs designed for visitors to enjoy during their visit. Two of the many valuable resources you'll find are:
Native Plant Gardening Resource Tables
Have questions about native plants? Wonder which native plants will do best in your yard or landscape? Stop by the PNPS "Ask a Sage" table, visit the 
Penn State Extension Master Gardeners
booth, or chat with any of our plant vendors.
Native and Wild Plants in Pennsylvania Information Table
Chat with knowledgeable folks from the Pennsylvania Department of Conservation and Natural Resources (PA DCNR) Wild Plant Program about native plants and native plant conservation initiatives in Pennsylvania!

Support Pennsylvania Native Plant Vendors
Each year, we invite local vendors of native plants and local food to the Native Plant Festival.
Check out the list of vendors here.
We hope to see you at the next Central Pennsylvania Native Plant Festival and Sale!