Booked through early 2018! Please wait until January 2018 to contact us for a program.
Contact Jon Kauffman for more information about these programs.
When our Visitor Center reopens in 2018, everyone is welcome to visit our raptors, reptiles, and amphibians here at the Center any day of the week, including our free weekend Meet the Birds of Prey shows.

Shaver's Creek Traveling Naturalist programs take our resident birds of prey, reptiles, and amphibians on the road to classrooms, clubs, community events, and organizations for educational presentations around central Pennsylvania.
We offer four types of engaging programs for audiences of all ages:
Birds of Prey: Learn about the natural history and case history of four of our live, non-releasable raptors, as well as the challenges facing eagles, falcons, hawks, and owls in the wild.
Owls Around Us: Learn about the nocturnal habits and adaptations of four of our live, non-releasable owls during this full-length presentation (or two owls during shorter programs).
Animal Adaptations: With an up close look at four live animals and hands-on props like turtle shells, snake skins, skeletons, wings, and talons, participants can learn about the fascinating strategies and characteristics that help animals succeed in their individual habitats.
Biodiversity: Meet four animals from Shaver's Creek to learn about biodiversity, and why a variety of life in any ecosystem is important to all of us.
Please note: The appearance of any particular bird or animal in a show depends on its good health. 
Learn more about our Raptor Classroom Activity Kits available for groups and schools to borrow.
Traveling Naturalist Program Fees
Full-length presentation (60–70 minutes):
$150
$75 for each additional presentation (same show, same site, same day)
Half-length presentation (30–40 minutes):
All presentations:
A $50 flat surcharge may be added for sites located outside a 50-mile radius of Shaver's Creek.
Current round-trip mileage fee for travel between the center and the site of presentation.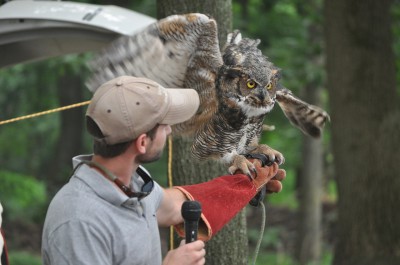 How to Schedule a Program
The Shaver's Creek Traveling Naturalist schedule fills up quickly each season. Contact Jon Kauffman to schedule a program, all-day fair, festival, or community event.