Welcome to Shaver's Creek
Located in the heart of central Pennsylvania, Shaver's Creek is Penn State's nature center, offering fun and educational environmental programs and events for the whole community! We invite you to visit our nature center, hike our trails, meet the birds of prey in our Raptor Center, and explore the hands-on exhibits and live reptiles in our Discovery Room. There is no shortage of things to do at Shaver's Creek, where we've been inspiring discovery since 1976!
What's New at Shaver's Creek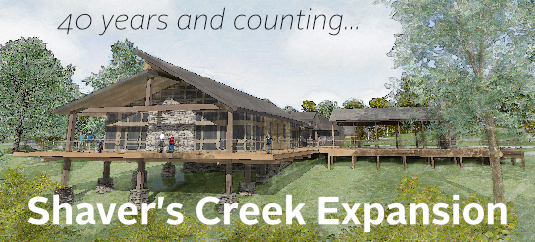 Shaver's Creek is about to undergo the most significant expansion and renovation in its history, adding 3,200 feet of new, technology-enhanced classroom space, an expanded and redesigned exhibit room, more sustainable systems, and much more. Learn all about it and how you can help at ShaversCreek.org/Lead.
Latest Blog Post
The Last Breath of Autumn
Oct 20, 2016
by Abby "Chickadee" Hileman, Fall 2016 Environmental Education Intern Autumn is the time of Pennsylvania's greatest watercolor. A whirlwind of colors sweep the landscape for a brief ...