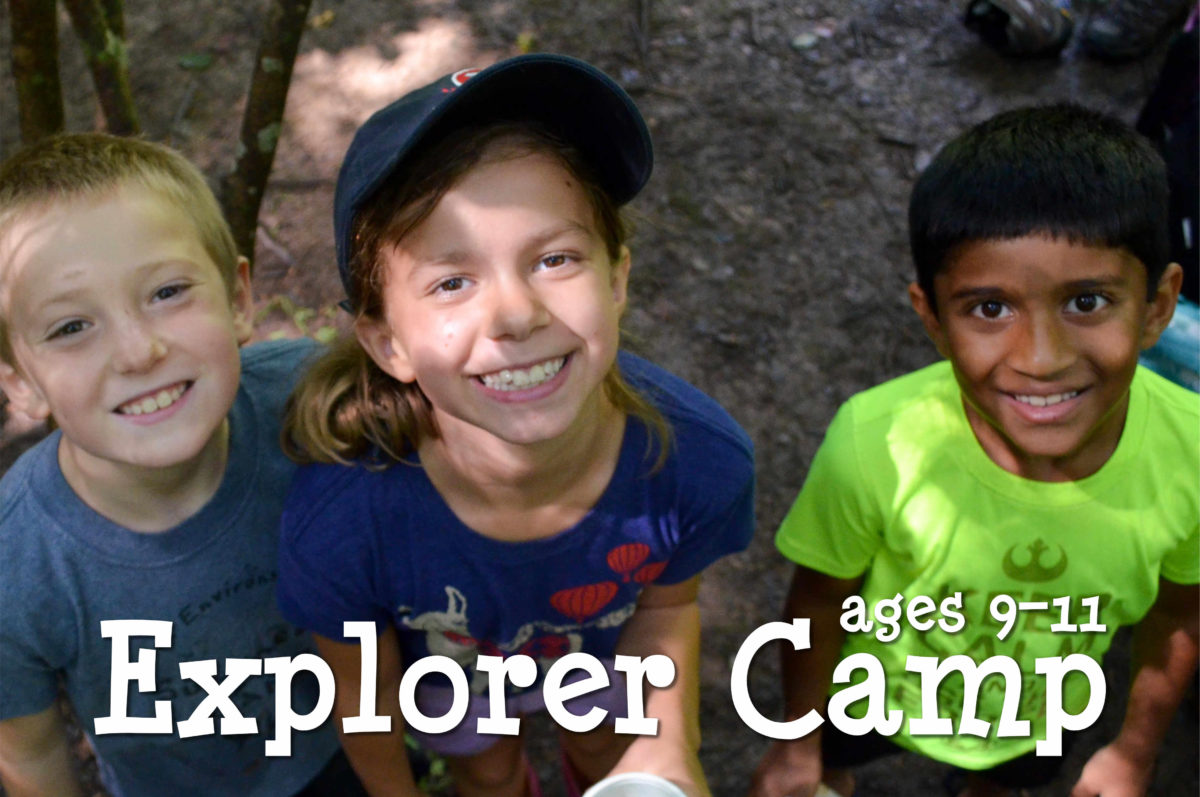 Ages: 9–11, entering fourth through sixth grades
Explorers will venture along the trails around Shaver's woods, traveling further than their Discovery Camper counterparts, in their quest to discover all they can about mammals. Topics to explore regarding mammals include adaptations, habitats, biodiversity, and the understanding of indicator species through a stream exploration (please bring old shoes). Additional parts of the week include fun games, team-building challenges, a trip to Whipple Dam, and reflection through journaling.  Friday evening is an opportunity for families to experience the magic of camp together through ice cream, campfire performances, night time activities, and a chance to camp out at Shaver's Creek Environmental Center! (Families need to bring all of their own equipment if camping out.) Pancakes are served on Saturday morning.
Registration Information
Five-Day Camp Sessions
Cost: 
$250 for nonmembers (save 15% with membership)
Time:
Monday – Thursday: 9:00 a.m.–4:00 p.m.
Friday: 9:00 a.m.–5:00 p.m.
Families: Friday 5:00 p.m.–Saturday 8:00 a.m.: optional program (see above); includes breakfast Saturday
Register Now
Dates (Choose one):
Register for June 22–27, 2020
Register for June 29–July 4, 2020
Register for July 20–25, 2020
Optional Transportation for 5-day Sessions:
Bus transportation will be provided for an additional fee from the Spikes Stadium at Medlar Field, 701 Porter Road. Drop-off (Monday–Friday) will be from 8:00–8:30 a.m., and pick-up (Monday–Thursday) will be from 4:30–5:00 p.m. You must register for bus transportation separately during the registration process in order to secure space. Space is limited.
Do you remember your username and password from 2019? You'll need to login to your membership to register for camp. Send a password reset to your email or see our camp FAQ for more details.
Daily Schedules
Day
4-Day Camp
5-Day Camp

Monday

No camp

9:00 a.m.–4:00 p.m.: Awareness Day

On the first day of camp, we will get to know each other and the environment better through games, exploration, and team-building activities.

Tuesday

9:00 a.m.–4:00 p.m.: Awareness Day

On the first day of camp, we will get to know each other and the environment better through games, exploration, and team-building activities.

9:00 a.m.–4:00 p.m.: Biodiversity Day

Through guided explorations, we will discover what biodiversity is, why it is important, and what it looks like in Shaver's Woods.

Wednesday

9:00 a.m.–4:00 p.m.: Adaptations Day

How do mammals survive? Today, we will investigate the different adaptations of these incredible biotic organisms!

Thursday

9:00 a.m.–4:00 p.m.: Cycles Day

Today, we will delve into the cycles of the natural world, including the water cycle and stream study (featuring exploration and critter catching time in a stream)! Because your camper will be in the stream, please ensure that they have packed an extra pair of old shoes (to go in the water), and an extra pair of socks in a plastic bag.

Friday

9:00 a.m.–5:00 p.m.: Interrelationships Day

Tying together all of the topics from the week, Interrelationships Day focuses on different aspects of ecosystems and how they all tie together. This day also includes swimming at Whipple Dam; please pack a swimsuit and towel in a plastic bag for your camper!

5:00 p.m.: Claim your camper and stay with your family to enjoy the rest of the optional activities throughout the evening!  Start with your own self-provided dinner on the front lawn!

Note: Please do not begin setting up your gear before 4:45 p.m. if you are staying for the Friday overnight.
With no cooking facilities available, please bring something that is easy and quick.
We are a zero waste facility and able to compost anything organic (including food scraps and paper products). Please still bring reusable plates and utensils if possible.
Families may "Adopt-A-Naturalist" by bringing food for them and enjoying the picnic together! A signup sheet will be available starting Wednesday afternoon on a first come basis.

6:30 p.m.: Ice cream from Meyer Dairy provided

7:15 p.m.: Campfire program! Campers and staff will present a myriad of songs, poems, skits, stories, and adventures from the camp week. Bring along a blanket/chair or sit on the giant rocks in front of the stage.

8:30–9:30 p.m.: Night activities, including Night Walks. Please bring warm layers and wear closed-toed shoes. Flashlights not needed.

10:00 p.m.: Settle into your tent for the night!

Saturday

6:30–8:00 a.m.: Breakfast/Last Day

6:30 a.m.: Coffee!

7:00–8:00 a.m.: Breakfast is served — featuring freshly made pancakes and coffee, plus milk, juices, and pancake toppings!
What do I need to wear and bring each day?
Every day you need to wear outdoor clothes that can get dirty and closed-toed shoes. You should also bring a small backpack for carrying the following things: a zero waste, nut-free lunch, a full water bottle, a raincoat or poncho, a hat, and sunscreen.
On Thursday you need to bring an extra pair of old sneakers for stream exploration because you are going to get wet. Each group will explore streams by actually getting in and gently turning over rocks to look for aquatic life. If you are careful, you will get wet only up to your ankles. We require everyone to wear an old pair of sneakers to protect his or her feet from sharp rocks and sticks in the stream. Because sneakers have thicker, more protective soles, they are preferable to those soft water shoes you might wear at the pool.
On Friday you need to bring your swimsuit, a towel, and definitely sunscreen!