The Shaver's Creek Field Laboratory was founded by Penn State in 1976 as an outdoor classroom for students to get hands-on experience teaching in, and about, the natural world. Since then, "Penn State's Nature Center" has expanded to offer more than 60 credit courses a year, including our AURORA first-year student orientation programs, environmental interpretation courses, adventure and leadership courses, and our capstone integrated SEED Semester.

Hundreds of students a year from across the University also earn credit with Shaver's Creek to become camp counselors for a week of Outdoor School, a residential environmental education program for fifth graders, or by becoming costumed presenters at Shaver's Creek's Maple Harvest Festival or Children's Halloween Trail.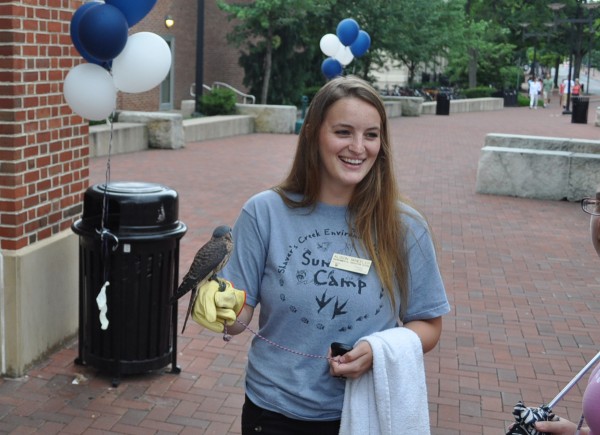 Shaver's Creek's undergraduate programs are listed with many departments around the University, including Recreation, Park, and Tourism Management (RPTM), Ecosystem Science and Management (ESM), Science Education (SciEd), Agriculture and Extension Education (AEE), and more! While some of our classes meet on campus, many are held at the center.
In addition to our diverse portfolio of undergraduate courses, Shaver's Creek instructors also teach a number of graduate-level courses in RPTM and as part of the interdisciplinary dual-title intercollege graduate degree program, Human Dimensions of Natural Resources and the Environment (HDNRE).
Shaver's Creek also supports a number of graduate students, many of who have used our field laboratory as the basis of their graduate research.
Opportunities for Penn State students at Shaver's Creek go well beyond the classroom. The center is open seven days a week from mid-February through mid-December, free of admission. Students can enjoy miles of hiking trails through Penn State's 7,000-acre Stone Valley Forest (PDF), as well as visit the Shaver's Creek Raptor Center, to get an up close look at many of our region's birds of prey species, including eagles, hawks, and owls.
Many students get involved in other ways at Shaver's Creek, too, whether through volunteering to help in the Raptor Center or to maintain trails, earning income through a Penn State work study position, or by joining the Shaver's Creek Society, our official Penn State student club.
Please follow the links to read more about the courses and opportunities for Penn State students at Shaver's Creek. You may also contact us with questions.