Shaver's Creek Nature Names
What's with the "nature names" below? At Shaver's Creek, many of our staff members adopt a secondary "nature name." These monikers are meant to be fun and are usually used during programs with kids, such as during Summer Camp and Outdoor School.
Penn State College Affiliation
Shaver's Creek is part of Penn State Outreach, but we have teaching agreements with many colleges and departments across Penn State. Some staff members also serve as faculty for the recreation, park, and tourism management program in the College of Health and Human Development or the School of Forest Resources in the College of Agricultural Sciences.
Shaver's Creek Seasonal Staff | Graduate Assistants | Penn State Faculty and Staff
Fall Staff 2022
Kyle Bettwy
Environmental Education Intern
After a hiatus in summer 2021, Kyle is so excited to be back for another year of summer camp! Kyle has worked in the summer camp world since 2018 and has previously worked as both a naturalist and environmental education intern. This year, he will be working as a program assistant and assistant director for Shaver's Creek Summer Camps. Kyle graduated from Penn State in 2020 with a degree in microbiology. In addition to everything outdoorsy, Kyle enjoys running, reading, and science education (particularly citizen science engagement). He hopes to one day create the perfect s'more.
Nature Name: Bee
Eva Hirsch
Environmental Education Intern
Eva graduated from Franklin & Marshall College in May 2022 with a bachelor of arts, double majoring in biology and music. She plans to attend graduate school in a couple of years to receive her Ph.D. in biology, and in the meantime, she hopes to work in environmental education. Eva is a State College native and grew up spending lots of time hiking and exploring nature. She attended a variety of Shaver's Creek programs, volunteered as an LIT in high school, and is excited to spend yet another summer as a naturalist at summer camp. When she's not at Shaver's Creek, Eva loves to roller skate, discover new music, pet her cats, and care for her ever-growing house plant collection.
Nature Name: Rabbit
Graduate Assistants
Madison Botch
Graduate Assistant
Past SEED student, intern, and seasonal educator, Madison is no stranger to Shaver's Creek! Having meandered her way through many different roles for the past few years, she landed in her current graduate assistant position in August 2019. Madison is a Ph.D. candidate in the curriculum and instruction program, with a focus in science education. She graduated from Penn State in 2018 with her bachelor's degree in recreation, park, and tourism management under the environmental interpretation option. Outside of Shaver's Creek, Madison has previously worked with some of Central Pennsylvania's other environmental education entities, such as Millbrook Marsh Nature Center and The Arboretum at Penn State. Madison loves to continually learn and grow as an educator and is excited to begin this new graduate-school journey with a place that is near and dear to her heart. In whatever free time she is able to find, Madison enjoys drinking coffee, birding with great friends, and fostering her 4-year-old daughter's love of the natural world.
Nature Name: Kestrel
Amy Eldredge
Graduate Assistant
As a kid, Amy grew to love the great outdoors through exploring the woods of Pennsylvania. A native of Lewistown, Pennsylvania, she participated as a camper in Shaver's Creek Outdoor School, which helped guide her on a career path in environmental stewardship and education. After graduating from Franklin & Marshall College in 2014 with majors in animal behavior and studio art, she interned at Bald Head Island Conservancy in North Carolina where she became the director of education. In 2018 she moved to Maui to work for the Hawaiian Island Humpback Whale National Marine Sanctuary as the volunteer coordinator to promote ocean conservation and awareness of the impacts of how we interact with our environment. These experiences have confirmed her desire to pursue higher education to connect people more effectively to nature. Amy is excited to be back in her home state to pursue both a master's and Ph.D. in recreation, park, and tourism management under the guidance of Dr. Danielle Lawson, exploring the indirect impacts of environmental programs, including intergenerational learning and the influence of a program over multiple years. She will also be a member of the Shaver's Creek team, working with Ellen Will and Jennifer Emigh, where her primary focus will be assisting with the Shaver's Creek Outdoor School. In her free time, Amy enjoys taking nature walks with a camera and binoculars in hand, reading on rainy days, and painting landscapes from her travels.
Jennifer Hileman
Graduate Assistant
Jenny is Ph.D. student in recreation, park, and tourism management. Her research interests include environmental education curriculum development and facilitation of programming. Prior to attending Penn State, Jenny earned her bachelor's degree in middle level mathematics and science education from Edinboro University and spent two years teaching in Pennsylvania public schools. Later, she attended Ohio University where she completed dual master's degrees in recreation studies and environmental studies. In lieu of a traditional master's thesis, she culminated these degrees through a partnership with the National Parks Service in which she developed a new experiential education–based curriculum for Sitka National Historical Park in Alaska. In her spare time, she enjoys climbing and biking with her husband and spending time with their two dogs.
Ezra Houston
Graduate Assistant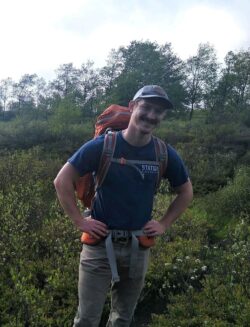 Ezra grew up in State College and received his bachelor's degree in forest resource management from Penn State. During his time as an undergraduate student, Ezra took courses such as agroforestry, which spurred his interest in non-timber forest products. He also had the opportunity to participate in undergraduate research on Goldenseal (Hydrastis Canadensis), which is a native plant and non-timber forest product. After graduating in 2020, he worked for the Pennsylvania Department of Conservation and Natural Resources (DCNR) as part of the inventory and monitoring section, where he gained field experience identifying native plants and collecting data.
Now, he is excited to start his master's degree studying non-timber forest products under the guidance of Eric Burkhart. While he is especially interested in plants, Ezra's other interests include camping, hiking, gardening, cooking, and weightlifting.
Jaedyn Lalonde
Graduate Assistant 
Jaedyn is a master's student in the ecology program at Penn State. In 2019, they graduated from Binghamton University with a B.S. in biology and environmental science. After graduation, they joined the Student Conservation Association (SCA) as an environmental education assistant at Five Rivers Environmental Education Center. In the summer of 2020, Jaedyn sailed along the Hudson River aboard the Sloop Clearwater as an education deckhand. As a first-year graduate student, Jaedyn is currently studying environmental DNA and wood turtles. In their free time, they love rock climbing, nature photography, tarot card reading, and flow arts.
Kirk Lawson
Graduate Assistant 
Kirk earned his B.S. in biology at the University of Alabama in Huntsville with a focus on pre-med studies. Then, he earned his M.S. in biology with a focus on physiology and psychopharmacology. He conducted clinical research for his master's thesis examining the effects of ADHD pharmaceuticals on bone density. After this, he took the MCAT and interviewed for medical school, but decided he was more interested in traditional plant medicine. Kirk then earned a graduate certificate in pharmaceutical chemistry, with a focus on natural product research/drug discovery, from the University of Florida. Now, he is very excited to start his Ph.D. at Penn State in the College of Agricultural Sciences with advisers Dr. Eric Burkhart (Forest Resources) and Dr. Josh Lambert (Food Science). Kirk is part of the newly formed SNIPS cohort — Soils, Plants, and Consumers Network (SPCN) — involved with studying the intersection of medicinal and food crops with human consumers. He will initially be studying ramps and ginseng and other Appalachian/New England medicinal/food plants. He hopes to carry out his dissertation research on the medicinal plants of St. Croix, U.S. Virgin Islands, which he has been studying independently for the past 3 years.
Megan Martin
Graduate Assistant
Megan is an M.Ed. student studying curriculum and instruction with an emphasis on science education at Penn State. Originally from Michigan, Megan grew up collecting rocks on the shore of Lake Huron. Naturally, she completed her bachelor's degree in geological sciences from Michigan State University in 2015. She worked as an environmental geologist in Colorado and as a technician in a certified groundwater testing laboratory. After finishing her first year of graduate study at Penn State with the College of Earth and Mineral Sciences, she is excited to transition into education to learn how to share her enthusiasm for science and nature with others. In her free time, Megan enjoys running, reading science fiction novels, going to the local farmers market, and traveling. She has even taken a one-year trip around the US in a travel trailer with her husband and two cats.
Nature Name: Copper
Emily Olsen
Graduate Assistant
Emily is a Ph.D. candidate at Penn State, studying curriculum and instruction with an emphasis in science education. Her research interests are at the intersection of climate anxiety and environmental education. Emily is an adventurous, friendly, outgoing person who grew up in the Pacific Northwest, spending her childhood around Puget Sound in Washington and her young adulthood in the suburbs of Portland, Oregon. She holds a B.S. in biology from Portland State University and an M.S. in environmental education and an M.A. in teaching, both from Southern Oregon University. She loves to share her passions with others and to help foster connections between the people and the world around them. She has held environmental education positions with Tualatin Hills Parks and Recreation District, Crater Lake National Park, and the Multnomah Education Service Districts Outdoor School Program among others in Oregon. Most recently, she has held an environmental education position with The Arboretum at Penn State in addition to her work as a Ph.D. candidate. Hiking and anything involving the water are her favorite outdoor activities, as well as reading and watching movies when indoors.
Nature Name: Sequoia
Faculty and Staff
Jennifer Anderson
Program Director
Jen coordinates the public workshops and OLLI programs at Shaver's Creek. In addition, she teaches BiSci003, an environmental science class at Penn State. She earned her bachelor's degree in biology and environmental science from Westminster College in 1996 and a master's degree in environment and community from Antioch University Seattle in 2001. She is originally from Port Allegany, in north-central Pennsylvania. She and her sons (Isaac, Henry, and Luke) and dogs (Tioga and Penny) now make their home in Pine Grove Mills. Her interests include exploring, reading, bike riding, kayaking, making jewelry, and spending time with friends and family.
Nature Name: Prism
Eric Burkhart, Ph.D.
Associate Teaching Professor
Appalachian Botany and Ethnobotany Program Director
Dr. Eric Burkhart is a botanist who specializes in ethnobotany, non-timber forest products, and plant conservation in his teaching, research, and educational outreach endeavors. He holds degrees in ethnobotany (B.A., Idaho State University), horticulture (M.S., Penn State), and forest resources (Ph.D., Penn State) and is currently Appalachian Botany and Ethnobotany program director for Shaver's Creek and faculty instructor for the Penn State Ecosystem Science and Management Department. His research program in Pennsylvania is focused on developing sustainable wild stewardship and agroforestry production systems for specialty forest products, including American ginseng (Panax quinquefolius), goldenseal (Hydrastis canadensis), and ramps (Allium tricoccum).
Nature Name: Panax
Tommy Butler
AmeriCorps Outdoor School Program Assistant
Tommy graduated from Penn State in May 2019 with a degree in Broadcast Journalism and has been at Shaver's Creek ever since. He is currently an AmeriCorps Member, acting as the Outdoor School Program Assistant. Tommy grew up going to Shaver's Creek Summer Camps as a camper and then as a Leader-in-Training, where his love of the outdoors was born. Thanks to his many incredible experiences volunteering at Outdoor School throughout college, he decided to apply to work at Shaver's Creek upon graduating. Tommy worked as a Naturalist during the 2019 and 2020 Summer Camp seasons, with time as an Environmental Education Intern at the Center in between. He moved into the role of Summer Camp Program Assistant for the 2021 and 2022 seasons. In addition to his love for all things Shaver's Creek, Tommy enjoys podcasting, playing disc golf, music, hiking, solving crosswords with friends, and almost always has a Frisbee on him.
Nature Name: Equinox
Ellie Chapman
Administrative Assistant
Ellie has worked at Penn State for 19 years. Her first five years were with Cooperative Extension, where she worked in grant and contract accounting. She then moved to the Paul Robeson Cultural Center in the role of office manager. Before working at Penn State, she worked for Easter Seals of Central Pennsylvania. Ellie has four children, three of whom are Penn State graduates! In her free time, she enjoys gardening and all crafts and loves to re-upholster furniture.
Nature Name: Sunflower
Shannan Davidow
Lead Animal Ambassador
Shannan is a shift supervisor for the animal care team, working with staff, volunteers, and interns to care for our animal ambassadors. She is from Huntingdon, Pennsylvania, where she completed her bachelor's degree in wildlife conservation at Juniata College. Shannan developed her animal training skills as a volunteer at Shaver's Creek and was hired as a seasonal employee in May 2018. She rejoined the staff in March 2019 after participating in a 3-month primate husbandry internship, where she cared for 50 lemurs on a reserve in Florida. 
In the future, Shannan plans to continue pursing a career in animal care and training, with a focus on birds. Throughout her time at Shaver's Creek, Shannan has become extremely passionate about vultures! She loves to work with the vultures at Shaver's Creek and is passionate about spreading conservation awareness for these fascinating birds. 
Outside of animal care, Shannan enjoys herping, hiking, and running. In her down time, she also enjoys playing board games with friends and family with a good cup of coffee!
Nature Name: Firefly
Chris Diehl
Grounds and Facilities Technician
Chris came to Shaver's Creek in 2018 after working for Penn State for over ten years. He assists with all things grounds and facilities related. When he's not working, you might find Chris riding motorcycles and enjoying the outdoors!
Nature Name: Mephitus
Jennifer Emigh
Associate Director; Program Director
Jen is the director of the AURORA Outdoor Orientation Programs at Penn State, which aids students with their transition to college through backpacking expeditions before the semester starts. She is also an assistant teaching professor and teaches courses in Outdoor Leadership for the RPTM & Kinesiology department and is the associate director of leadership development at Shaver's Creek.
Jen earned a bachelor's degree in recreation and park management from Penn State in 2001 and a master's degree in environmental studies from Antioch University New England in 2007. She honed her skills as director of corporate leadership trainings at University of New Hampshire's Browne Center prior to returning to Penn State in 2010 for what she calls her "dream job."
Jen's passion in life has become helping people live an authentic life by learning more about themselves and how to lead in all walks of life. While she focuses her time mainly with student leaders, she is passionate about supporting anyone as they find their inner leader. She also enjoys spending time pursuing outdoor adventures with her son, road tripping in their camper van, and waiting for snow to fly so they can hit the slopes.
Nature Name: Samara
Nikki Houck
Office Manager
Jon Kauffman
Assistant Program Director
Jon promotes conservation through citizen science projects such as Project Nestwatch, Monarch Watch, Winter Raptor Surveys, and seasonal hawk watches. In the spring, Jon partners with the State College Bird Club to help coordinate the Tussey Mountain Hawk Watch, a major flyway for Golden Eagles. While majoring in wildlife and fisheries science at Penn State, he became aware of the great volunteer opportunities Shaver's Creek has to offer. Since then, he has been a work-study student and raptor center intern, and has assisted with public programs at Shaver's Creek. He has served as a hawk-watcher for nearby Tussey Mountain and has also traveled and worked with other organizations such as Cape May Bird Observatory and Intermountain Bird Observatory in Idaho. Jon has a passion for canoeing the Juniata River, native plants, exploring new habitats, and connecting people to the avian world.
Nature Name: Timberdoodle
Drew Lehnerd
AURORA Assistant Program Director
Drew works to ensure that AURORA's operations and staff development run smoothly. He believes strongly in the power of outdoor recreation as a community-building and leadership-development tool and makes that belief a reality each day with AURORA. Drew also instructs wilderness medicine and CPR courses in the Recreation, Park, and Tourism Management Department. He earned a B.S. in Human Geography from Penn State in 2012. Drew is a Leave No Trace Master Educator, SOLO Wilderness First Responder, and an AASI certified snowboard instructor. He also enjoys riding bicycles, reading, and learning new things.
Nature Name: Larkspur
Matt Marsden
Outdoor School and Discovery Camp Assistant Director
Matt has been helping to direct Outdoor School, Discovery Camp, and Kids Corner. He graduated in 2006 from Penn State with a bachelor's degree in environmental interpretation and in 2016 from Slippery Rock University with an M.S. in park and resource management. He likes all things outdoors and enjoys living in Alexandria, PA.
Nature Name: Cardinal
Lucy R. McClain, Ph.D.
Assistant Teaching Professor
At Shaver's Creek, Lucy oversees the graduate assistant program. She is an instructor for RPTM 430 (Environmental Education Methods & Materials), SCIED 118 (Field Natural History for Teachers), and SUST 200 (Foundations of Sustainability & Leadership). Lucy is also involved with several grant-funded research projects with Penn State's College of Education; her research interests include family science learning processes in the outdoors and mobile-based learning designs for outdoor spaces.
She enjoys spending time in the outdoors with her two sons, Conary and Eamon, her husband, Casey, and their dog, Scout. Lucy is also an avid sports fan and jumps at the chance to knock around a soccer ball.
Nature Name: Malachite
National affiliations:
Certified Interpretive Guide — National Association for Interpretation
Member — North American Association for Environmental Education
Member — National Association for Research in Science Teaching
Member — Visitor Studies Association
Laurie McLaughlin
Program Director; Instructor
At Shaver's Creek, Laurie is an instructor in the RPTM department, teaching Teambuilding Facilitation (RPTM 230), Interpreting Maple Sugaring to Families (RPTM 297), and the First Year Seminar (RPTM 297) for AURORA students.
In addition to teaching, Laurie coordinates the SEED Semester (a 17-credit block of outdoor and environmental education courses taught at Shaver's Creek each spring) and directs our Maple Harvest Festival.
Laurie has been affiliated with Shaver's Creek since 1993, and served as a past director of the team building program. She received a bachelor's degree in recreation and park management — environmental interpretation from Penn State in 1988 and a master's degree in experiential education from the University of Colorado in 1992.
Laurie and her husband, Mark, have two boys, Brian and Sean, with whom they love spending time in the outdoors. Her interests include hiking, birdwatching, paddling her canoe on local lakes, reading, baking pies, and traveling to cool places. Laurie is also an avid sports fan, with much of her energy going toward supporting the Chicago Cubs.
Nature Name: Loon
Mark McLaughlin
Director
Mark teaches First Aid and Safety courses and the Discovery Trip class and is a member of multiple Penn State Outreach committees. He is responsible for cultivating the resources necessary to make Shaver's Creek successful. Mark received a bachelor's degree in wildlife biology, with a minor in forestry, from the University of Vermont in 1985 and a master's degree in environmental education from Montclair State University in 1988. Mark likes birding, baseball, fishing, reading, and spending lots of time with his family — Laurie, Brian, and Sean.
Nature Name: Goshawk
Tesha Omeis
Summer Camp Program Director
Tesha is the program director for all things summer camp related.
Tesha earned her bachelor's degree in recreation, park, and tourism management from Penn State in 2005 while being a part of the Shaver's Creek community in a variety of ways. After graduating she lived and worked in seven different states. From the coastal barrier islands in Georgia to the canyons of Alabama and up into the forests of Connecticut, she enjoyed being immersed in the communities of so many different places while educating youth. She then served two years as a district executive for the Boy Scouts of America in the Philadelphia area.
During her off time, Tesha enjoys spending time with plants, exploring new places, and journaling. She values a balance of work that contributes to a healthy planet with invested caretakers and time to explore opportunities to grow as an individual. If she had a bumper sticker physically attached to her that conveyed a message about who she is and what she stands for, it would read "reach your potential and help others to do the same."
Nature Name: Skye
Chris Ortiz
Associate Director; Program Director, Team Development Center
Chris is the associate director for the Conservation Interpretation team at Shaver's Creek. He is also the program director for Team Development at Shaver's Creek and is an instructor for the Recreation, Park, and Tourism Management department at Penn State.  Chris facilitates and teaches team development, leadership, and group dynamics experiences with schools and university groups, corporations, and sports teams that strengthen relationships, motivate growth, and develop leaders. He regularly presents internationally at conferences where he shares innovative programming and activity ideas. Chris co-authored the second edition of the High 5 Guide: Challenge Course Operating Procedures for the Thinking Practitioner as well as the Ubuntu Activity Guide. He has held leadership roles in both the Association for Experiential Education (AEE) and the Association for Challenge Course Technology (ACCT).
You can usually find Chris at the local climbing gym or exploring trails by bike or boot. Oh… and he loves chocolate.
Nature Name: Mongoose
Skylar Peters
Academic Advisor
Skylar is the Academic Advisor serving Penn State students interested in the Sustainability Leadership Minor, the Outdoor Recreation Management option within the Department of Recreation, Parks, and Tourism Management, and all the many classes that Shaver's Creek delivers for the University. Skylar is a 2014 graduate of Penn State University with a Bachelor of Science Degree in Agricultural Extension and Education. During her time as an undergraduate she participated in various Shaver's Creek classes, including as a Learning Group Leader for Outdoor School. In 2016 Skylar graduated from the University of Illinois with a Master of Science Degree in Parks and Recreation Management. She spent 8 years working with Penn State Extension as a 4-H/Youth Development Educator before transitioning into her advising role with RPTM/Shaver's Creek.
Skylar enjoys everything the natural world has to offer, from hiking, hunting, and fishing to exploring with her family. Anytime she can be traveling to new and diverse outdoor spaces, she will!
Nature Name: Doe
Joshua Potter
Associate Director, Operations and Communications
Joshua works to keep Shaver's Creek a vibrant educational facility to support the Center's wide range of credit, noncredit, outreach, and research programming. Joshua is responsible for managing strategic communications to support Shaver's Creek programs, for developing interpretive materials throughout the facility to support the Center's educational mission, and for overseeing management of facility and grounds. He also manages our bookstore and membership program. Joshua received a bachelor's degree in integrative arts from Penn State, focusing on multimedia and environmental education. After seven years working as a naturalist and outreach coordinator for Tin Mountain Conservation Center in Conway, New Hampshire, Joshua returned to his native Pennsylvania to join Shaver's Creek in 2010. He grew up just over the mountain in Pine Grove Mills and has a long association with Shaver's Creek — as a summer camper from ages 5 to 18, as a volunteer in high school, as a student and teaching assistant while at Penn State, and now as staff! Joshua also enjoys birding, hiking, and spending time outdoors with his wife Sarah, son, Ellory, and daughter, Lucy.
Nature Name: Otus (Megascops)
Alexa Sarussi
School Programs Director
Alexa directs the programs that enhance and engage school children's learning at Shaver's Creek. She grew up in Arizona and earned her bachelor's degree in biology at Pomona College in Southern California, before moving east and discovering the forest. She has returned to Shaver's Creek several times since 2014, working as an intern and with summer camp programming. Between her stints at Shaver's Creek, Alexa led adventure trips for youth in New Hampshire, worked for a study abroad organization in Panama, and taught environmental science at Conserve School in Wisconsin. Alexa loves exploring Central Pennsylvania and beyond, birding, watercoloring, being active outdoors, and learning new skills, like playing the guitar!
Nature Name: Vireo
Brian Sedgwick
Grounds and Facilities Coordinator
Brian is responsible for maintaining the facilities and grounds at Shaver's Creek and coordinating volunteer groups and work-study students. Brian also assists with a wide variety of programming — from school and youth programs to team building and bird of prey shows. Brian graduated from Penn State in December 2001 with a bachelor's degree in recreation and park management. For twenty-five years he has been involved in Scouting — becoming a Tiger Cub at age 5, working on staff at Camp Mountain Run, sitting on the Bucktail Council Camping Committee, and being an adviser of Venture Crew 509. His twelve years of summer camp experience includes archery range instructor, director of camp program, and director of the first-year-camper program, before being appointed camp director in 2005. Brian has an uncanny knack for pop culture and historical trivia and enjoys model rocketry, paintball, and hockey. Brian, his wife, Johanna, and son, Logan, enjoy cooking, camping, and hiking whenever possible.
Nature Name: Draco
Alex Suleski
Conservation Interpreter
As a conservation interpreter, Alex helps visitors connect with Shaver's Creek and the animals that call it home. He leads free public programs on the weekends to introduce visitors to everything Shaver's Creek has to offer and to strengthen their connection to the natural world.
Alex earned a bachelor's degree in political studies with an environmental studies minor from Temple University and a master's degree in environmental studies from Point Park University in 2019. He previously worked at Phipps Conservatory and Botanical Gardens for three years. He joined the Shaver's Creek team in 2021 after moving to Centre County.
Alex kindled his interest in nature early on when he lived in Arizona, learning to scuba dive at age 12 and spending his summers diving in California. When he moved to Pennsylvania, his interests became more terrestrially focused, and he has been enjoying everything the PA outdoors has to offer. Alex enjoys spending time exploring new places and continuing to learn about the spaces around us.
Nature Name: Prickly Pear
Paige Sutherland
Wildlife Education and Engagement Program Director
Paige cares for the resident wildlife who call Shaver's Creek Environmental Center home. She enjoys preparing the ambassador animals for engaging with and educating the Shaver's Creek community, as well as preparing emerging professionals for impactful careers in wildlife conservation and environmental education. She is passionate about conserving wild beings and places while learning about their unique traits and functions.
Paige started her career in wildlife conservation and care at Smithsonian's National Zoological Park and Conservation Biology Institute as an Animal Keeper for the Elephant Trails department. In addition to providing daily husbandry, training, and educational public programming with the resident Asian Elephants, Paige conducted research on the fatal elephant endotheliotropic herpes virus (EEHV) at the National Herpes Virus Lab. Leaning on the relationships built at her alma mater, George Mason University, she developed and co-advised an undergraduate course called Elephants, Enrichment, and Engineers that supported the engineering students with their capstone projects while exercising their newly developed skills to impact the daily lives of wildlife under human care.
Paige moved to Pennsylvania in conjunction with her matrescence journey and to support her husband's Ph.D. candidacy at Penn State. She now enjoys raising her daughter between the meadows and mountains of Happy Valley.
Nature Name: Talon
Marie Taylor
Membership and Program Registration Coordinator
Marie supports the management of the Shaver's Creek bookstore/gift shop operation, our membership program, and the registration of our many events and programs throughout the year. A State College native, Marie returned to the area after living in Pittsburgh and is delightfully reconnecting with nature in the Shaver's Creek woods. She enjoys hiking, swimming, and spending time with her family.
Nature Name: Citrine
Brady Thomas
Conservation Interpeter
Brady is one of two conservation interpreters at Shaver's Creek. From a young age, Brady developed an interest in and a love for the natural world by going on camping trips with his family and through scouting. His scouting experience led him to work at a summer camp for many years, nurturing his love of teaching — especially in the outdoors. He graduated from Penn State in 2020 with a degree in secondary education social studies. His love of teaching and his desire to share the outdoors with others led him to Shaver's Creek, where he gets to share all that we have to offer with the public. In his free time, Brady enjoys going on adventures, reading, and taking pictures.
Nature Name: Harrier
Doug Wentzel
Naturalist and Program Director
Doug coordinates the environmental education internship and birding programs and serves as instructor of Principles of Environmental Interpretation (RPTM 325) and Natural History Interpretation (RPTM 326). Doug received his bachelor's degree in wildlife ecology from Penn State in 1989 and has served four years in the U.S. Army Medical Corps. He is sanctioned by The National Association for Interpretation as a trainer of Certified Interpretive Guides, and since 2005, Doug has co-led Audubon's Coastal Maine Bird Studies for Teens week on Hog Island, Maine. He is married to Susan and they have two sons, Dylan and Duncan. His ongoing interest is fostering the awareness of the diversity of life in our own backyards.
Nature Name: Merlin
Joe Whitehead
Amphibian and Reptile (Herp) Program Coordinator
A Penn State graduate and former Shaver's Creek animal care volunteer, Joe spent 11 months as an educator with Point Defiance Zoo and Aquarium before returning to Shaver's Creek as the amphibian and reptile coordinator. While Joe's primary focus is on caring for and educating about the center's resident amphibians and reptiles, he is also the primary or assistant trainer for many of the Center's resident raptors. Most recently, Joe has begun training our resident turtles and snakes to help enrich their lives while showing another side of these animals to our visitors.
Nature Name: Goshawk
Ellen Will
Associate Director; Program Director
Ellen manages the residential Outdoor School program, teaches its companion courses, and assists with the internship program. She believes that camp can change lives and enjoys seeing the interrelationships between the Penn State student leaders and the elementary-aged participants at Outdoor School. Ellen earned her bachelor's degree in interdisciplinary studies — environmental education from Appalachian State University in 1995, and her master's degree in environmental education at Slippery Rock University. Her thesis topic was a study of the long-term impact of the Shaver's Creek internship program (which, by the way, 97% of former interns report was a positive experience and would recommend to a friend). Ellen is a member of the American Camp Association and serves on the PSU Youth Programs Council. Ellen lives in State College with her husband, Thad, and their two sons, Jacob and Nate.
Nature Name: Xylem
Will Wise
Program Director and Instructor
Will's profile is left as a memorial to our beloved friend and colleague of 15 years. Watch a video meditation and read a tribute in celebration of Will's memory in a special post.
Will co-directed the Shaver's Creek Team Development Center. Will was also the director of facilitator development for World in Conversation at Penn State's University Park campus, where he taught people how to talk about taboo subjects such as race, gender, and long-term conflicts. With more than two decades of experience facilitating team development and group dynamics, Will earned a reputation as a first-rate instructor. Working with groups ranging from corporate entities to adjudicated youth, school students to senior programs, Will helped thousands of people to foster positive communication and self-actualization. He especially loved empowering participants with social skills that can be applied both to within-the-group training and to everyday life. He was certified by the American Canoe Association to teach canoeing and kayaking, and he loved using the outdoors to encourage people to know themselves. He had a degree in forest management from Michigan Technological University, a master's degree in workforce education from Penn State, and spent five years as the director of Nature's Classroom, a nontraditional school in New England.
Nature Name: Whip-poor-will
Faculty and Staff Affiliates
Ian Marshall
Faculty Affiliate
A Penn State Altoona professor emeritus of English and environmental studies, Ian is the founder of the Shaver's Creek Long-term Ecological Reflections Project and editor of Reading Shaver's Creek: Ecological Reflections from an Appalachian Forest (Penn State University Press, 2018), a collection of essays from the first ten years of the project. Ian co-founded the environmental studies program at Penn State Altoona and is a past president of the Association for the Study of Literature and Environment. He is the author of four books of literary ecocriticism, among them Story Line: Exploring the Literature of the Appalachian Trail (University Press of Virginia, 1998) and Walden by Haiku (University of Georgia Press, 2009), as well as a collection of poems called Circumambulations (Foot Hills Press, 2018). Since retiring from teaching in 2020, Ian keeps busy hiking, biking, paddling, reading, playing tennis, and writing songs.
Nature Name: Hemlock Stones