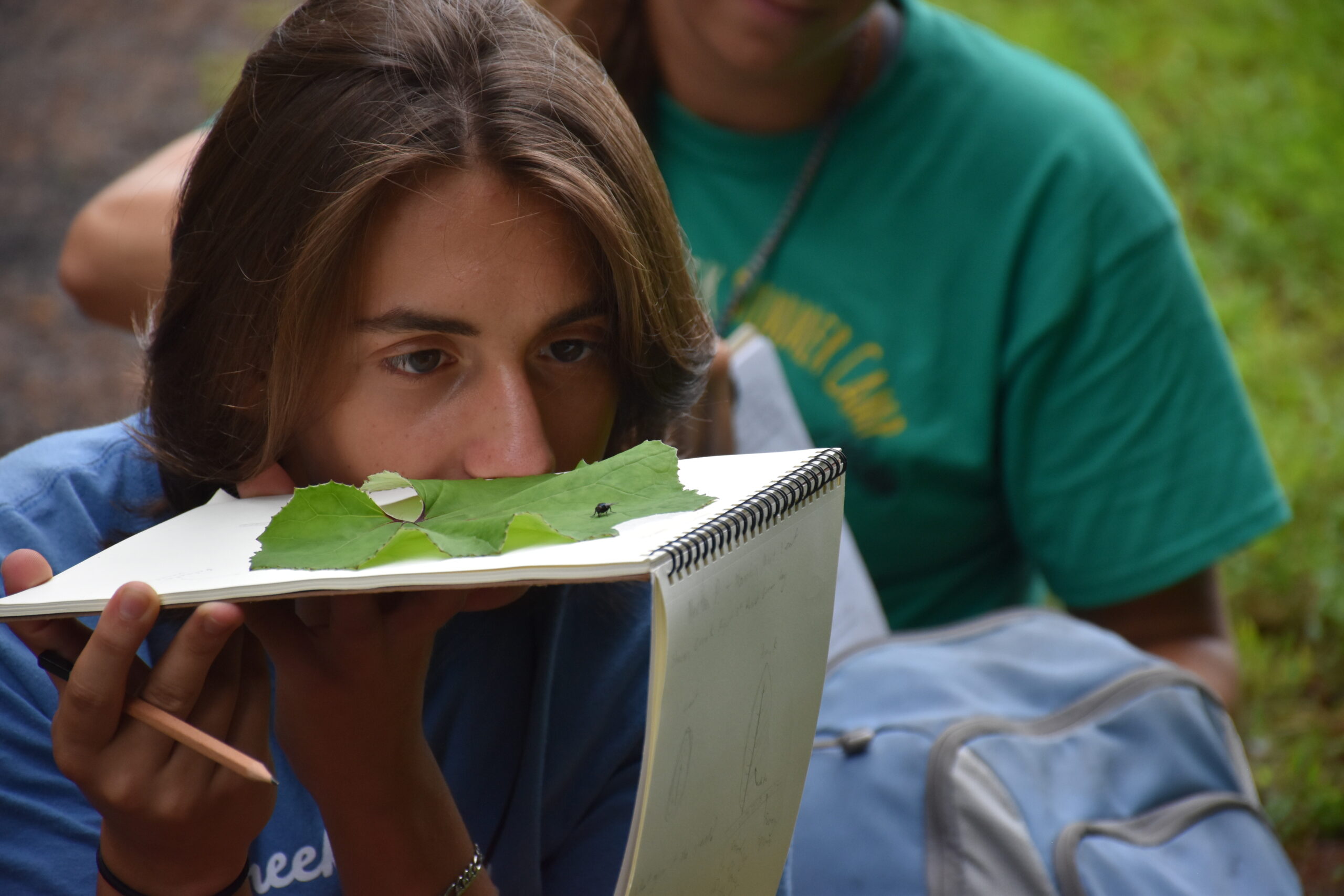 Ages: 12–14
Starting with the identification of plants, we will learn how to safely and consistently identify a number of local species. We will use some of those species in the making of different herbal products that Investigators will take home.
Registration Information
Cost:
$390 for nonmembers (save 15% with membership)
Time:
Tuesday–Thursday, 9:00 a.m.–4:00 p.m.
Friday, 9:00 a.m.–5:00 p.m.
Friday, 5:00 p.m.–Saturday, 8:00 a.m. (Optional family programming — see schedule for details)
Dates (Choose one):
June 20–24, 2023
June 27–July 1, 2023
July 4–8, 2023
July 18–22, 2023
July 25–29, 2023
August 1–5, 2023
Optional Transportation for the weeks of July 25 and August 1 only:
Bus transportation will be provided for an additional fee from the Spikes Stadium at Medlar Field, 701 Porter Road. Drop-off (Tuesday–Friday) will be from 8:00–8:30 a.m., and pick-up (Tuesday–Thursday) will be from 4:30–5:00 p.m. Pick-up on Friday is at 5:00 p.m. at Shaver's Creek Environmental Center. You must register for bus transportation separately during the registration process in order to secure space. Space is limited.
Schedule
Day
Activities

Tuesday

9:00 a.m.–4:00 p.m.:

On the first day, we will begin with an introduction to the topic of the year: herbal remedies. Starting with plant identification and the roles of plants as healers throughout the ages, we will become more comfortable and familiar with a specific set of species used throughout the week. We will also take time to become familiar with the other members of our group.

Wednesday

9:00 a.m.–4:00 p.m.:

Building upon our identification skills, we will collect plants to be used in our herbal creations. We will also delve into an investigation project to be presented on Friday evening to families.

Thursday

9:00 a.m.–4:00 p.m.:

Utilizing the plants gathered yesterday, we will create several herbal products, including different medicinal oils and salves that Investigators will take home!

Friday

9:00 a.m.–5:00 p.m.:

Today, we will branch out beyond the species we have already focused on and learn about some additional species. We will also journey to Whipple Dam for some beach and water time with the rest of the Shaver's Creek campers!

Friday evening–Saturday morning

Optional Family Programming

Friday, 5:00 p.m.: Claim your camper and stay with your family to enjoy the rest of the optional activities throughout the evening. Start with your own self-provided dinner on the front lawn!

With no cooking facilities available, bring something that is easy and quick.
We are striving to be a zero waste facility. Please bring reusable plates and utensils if possible.
Families may "adopt" a staff member by bringing food for them and enjoying the picnic together! A signup sheet will be available starting Wednesday afternoon on a first-come basis.

6:15 p.m.: Ice cream from Meyer Dairy provided.

7:00 p.m.: Campfire program. Campers and staff will present a myriad of songs, poems, skits, stories and adventures from the camp week. Bring along a blanket/chair or sit on the giant rocks in front of the stage.

8:30 p.m.: Bat program. Learn more about our flying mammal friends as they prepare to wake up and seek insect food.

8:40–9:30 p.m.: Night program. Campers will showcase their inquiry projects with results, and families will have a chance to better understand what camp was like for their camper all week!

10:00 p.m.: Settle into your tent for the night!

Saturday, 7:00–8:00 a.m.: Breakfast is served. Featuring freshly made pancakes and coffee, plus juices, and pancake toppings!
What do I need to wear and bring each day?
Investigators will need to wear outdoor clothes that can get dirty, and closed-toed shoes. You should also bring a small backpack for carrying the following things: a zero-waste, nut-free lunch, a full water bottle, a raincoat or poncho, a hat, and sunscreen. Optional daily items include drawing pencils, a notebook, a camera that can tolerate the conditions at camp/outdoors, and a favorite plant ID guide.