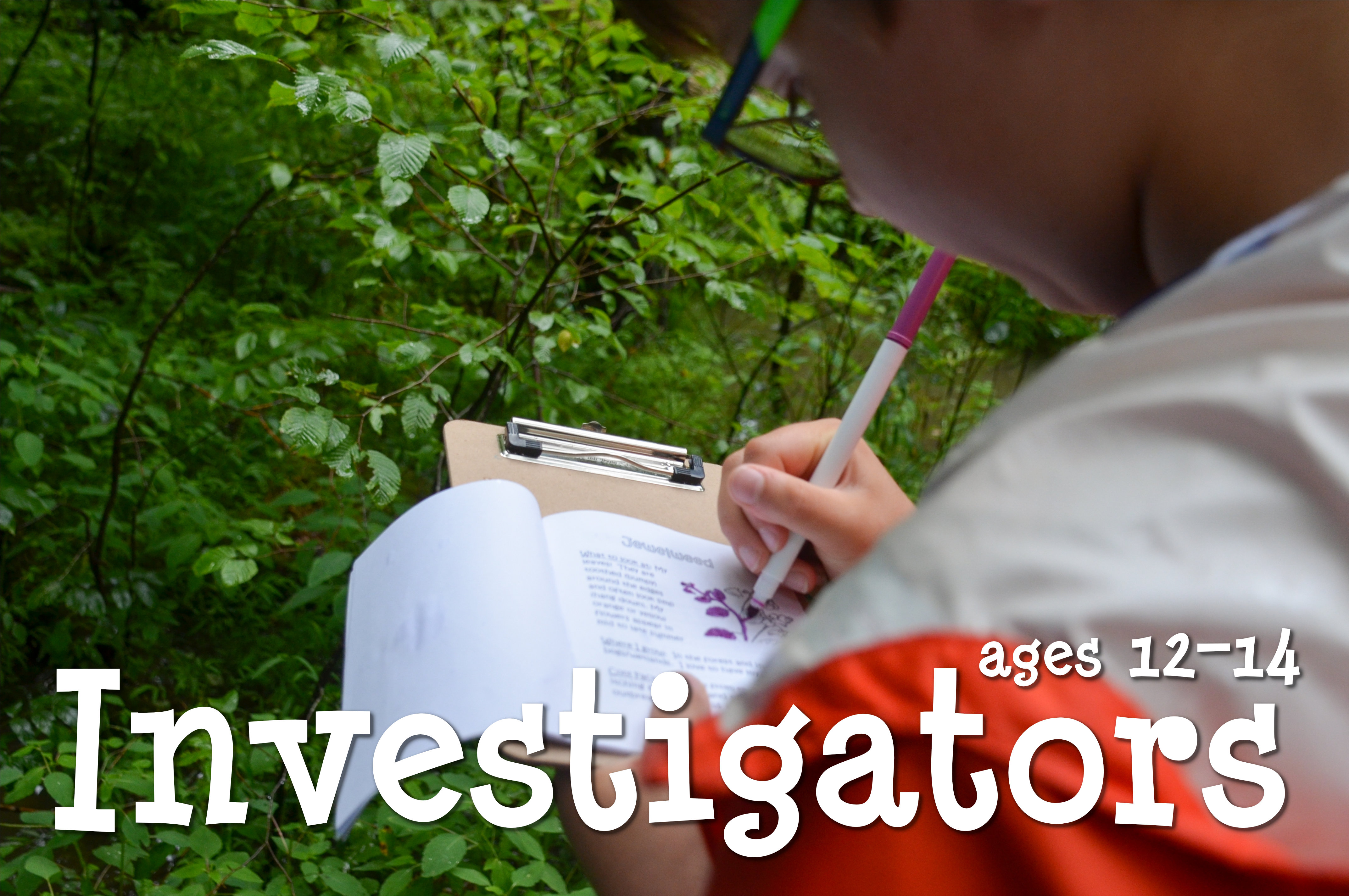 Ages: 12–14
New this year to the summer camp offerings is "Investigators!" This mirrors the model of Discovery and Explorer Camps in that it will follow a similar schedule each year, but deviates in that each year will focus on a different, very specific topic. In 2019 we will debut our Herbal Remedies program! Starting with the identification of plants, we will learn how to safely and consistently identify a number of local species. Off-site field trips will help to cement that knowledge and aid in increasing our understanding of the plant kingdom. The week's program culminates in the making of different herbal products that Investigators will take home. Friday evening features a presentation by Investigators; families are encouraged to stay afterwards through ice cream, the campfire, and overnight camping. (Families need to bring all of their own equipment if camping out.) Breakfast on Saturday morning of pancakes and coffee is served from 7:00–8:00 a.m.!
Registration Information
Cost:
$425 for nonmembers (save 15% with membership)
Times:
Monday–Friday: 9:00 a.m.–5:00 p.m.
Families: Friday 5:00 p.m.–Saturday 8:00 a.m.; optional program (see below); includes breakfast Saturday
Dates (Choose one):
July 29–August 3, 2019
August 5–10, 2019
Do you know your NEW username and password for 2019? You'll need to login to your membership to register for camp. Send a password reset to your email or see our camp FAQ for more details.
Daily Schedule
Day
Activity

Monday

9:00 a.m.–5:00 p.m.:


On the first day, we will begin with an introduction to the topic of the year: herbal remedies. Starting with plant identification and the roles of plants as healers throughout the ages, we will become more comfortable and familiar with a specific set of species used throughout the week. We will also take time to become familiar with the other members of our group.

Tuesday

9:00 a.m.–5:00 p.m.:


Building upon our identification skills, we will collect plants to be used in our herbal creations. We will also delve into an investigation project to be presented on Friday evening to families.

Wednesday

9:00 a.m.–5:00 p.m.:


Utilizing the plants gathered yesterday, we will create several herbal products, including different medicinal oils and salves that Investigators will take home!

Thursday

9:00 a.m.–5:00 p.m.:


Branching out beyond the species focused on thus far, on this day we will learn about and harvest additional species in preparation for tomorrow. Part of this day will be off-site (transportation is provided).

Friday

9:00 a.m.–5:00 p.m.:


Herbs have long been used not only in medicine when illness came, but to ward off illness through continual healthy eating.  We will wrap up the week with learning about different edible plants and what they give to humans through food. In the afternoon Investigators will prepare food items that will be shared with families during the 5: 30–6:00 p.m. time block mentioned below.

5:00 p.m.: Claim your camper and stay with your family to enjoy the rest of the optional activities throughout the evening!  Start with your own self-provided dinner on the front lawn!

With no cooking facilities available, please bring something that is easy and quick.
We are a zero waste facility and able to compost anything organic (including food scraps and paper products). Please still bring reusable plates and utensils if possible.
Families may "Adopt-A-Counselor" by bringing food for them and enjoying the picnic together! A signup sheet will be available starting Wednesday afternoon on a first come basis.

5: 30–6:00 p.m.: Presentations of projects and sampling of wild edible foods prepared by Investigators in the Treehouse (Hamer) building!

6:30 p.m.: Ice Cream from Meyer Dairy provided

7:15 p.m.: Campfire program! Campers and staff will present a myriad of songs, poems, skits, stories and adventures from the camp week. Bring along a blanket/chair or sit on the giant rocks in front of the stage.

8:30–9:30 p.m.: Night activities, including Night Walks. Please bring warm layers and wear closed–toe shoes.  Flashlights not needed.

10:00 p.m.: Settle into your tent for the night!

Saturday

6:30–8:00 a.m.: Breakfast/Last Day

6:30 a.m.: Coffee!

7:00–8:00 a.m.: Breakfast is served! Featuring freshly made pancakes and coffee, plus milk, juices, and pancake toppings!
What do I need to wear and bring each day?
Investigators will need to wear outdoor clothes that may get dirty and closed-toe shoes. You should also bring a small backpack for carrying the following things: a zero-waste, nut-free lunch, a full water bottle, a raincoat or poncho, a hat, and sunscreen. Optional daily items include drawing pencils, a notebook, a camera that can tolerate the conditions at camp/outdoors, and a favorite plant ID guide.