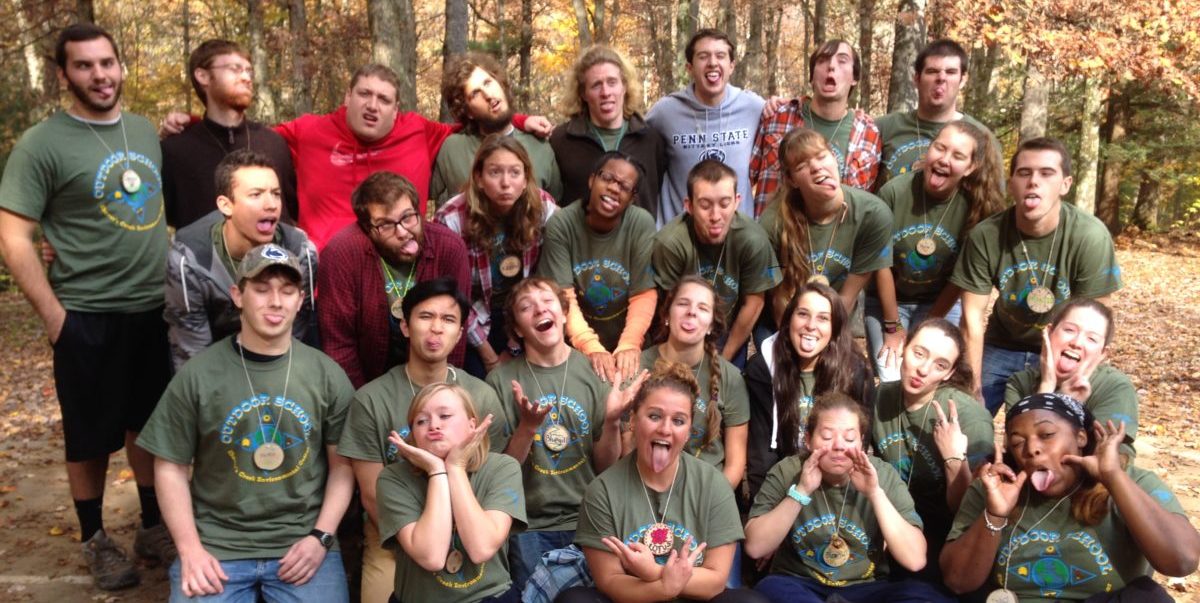 Fall 2023 Important Dates
Counselor application deadline:
Thursday, September 7
Counselor Training I:
Wednesday, September 13
6:00–9:00 p.m.

112 Forest Resources Building
Counselor Training II:

Tuesday, September 19
6:00–9:00 p.m.
Camp Blue Diamond
Counselor Training III:
the Thursday before your assigned week
6:00–7:00 p.m.

On campus, room TBA
Outdoor School dates:
(All dates are Monday–Friday unless noted)
September 25–29
October 2–6
October 9–13
October 16–20
October 23–27
November 6–9 (Mon–Thurs)
Penn State students can earn two (2) GHW credits by participating in Outdoor School (ODS) as cabin counselors. Returning counselors may advance to become Learning Group Leaders and can earn additional credits. Penn State students may also earn volunteer hours to satisfy community service requirements.
To participate in Outdoor School, Penn State students must first submit an application*. Students who are accepted will be registered for SciEd 140 or RPTM 140, Outdoor School Field Experience for academic credit concurrent with ODS. Counselors attend three required training sessions prior to the start of Outdoor School. Course information and registration materials will be available at these trainings.
Apply — New Counselor  Apply — Returning Counselor
*Please note that we give preference to new and first-time returning applicants in order to give more students the opportunity to participate in Outdoor School. If you're a second- or third-time returning counselor, please apply anyway, and we will do our best to offer you a position. All counselors must provide verification of Pennsylvania Child Abuse History Clearance, PA State Police Background Check, and FBI Fingerprint Check to comply with the newly revised PA State Child Protection laws before attending ODS. If you do not have current clearances, we will assist you with obtaining these as part of the training process.
During their week of ODS, Penn State students must commit to being on-site 24-hours a day, typically from 1:30 p.m. on Monday through 3:00 p.m. on Friday, with free time on Wednesday or Thursday afternoon. Counselors sleep in cabins and eat family-style meals with the school students. There is indoor hot-water plumbing.
Outdoor School has both a fall season and a spring season. The spring season is typically five to six weeks, beginning in late March and ending in early May. The fall season is typically six weeks, beginning in September. ODS is held at Camp Blue Diamond, in Petersburg, Pennsylvania (about 20 miles south of State College)**.
**Car pools can be arranged to help students without transportation get to the counselor trainings and to Camp Blue Diamond during Outdoor School.
If you wish to apply for a future season, or if you have questions regarding Outdoor School or the application, please review our list of Frequently Asked Questions or contact Ellen Will, Outdoor School Director, at 865-3953 or ellenwill@psu.edu.