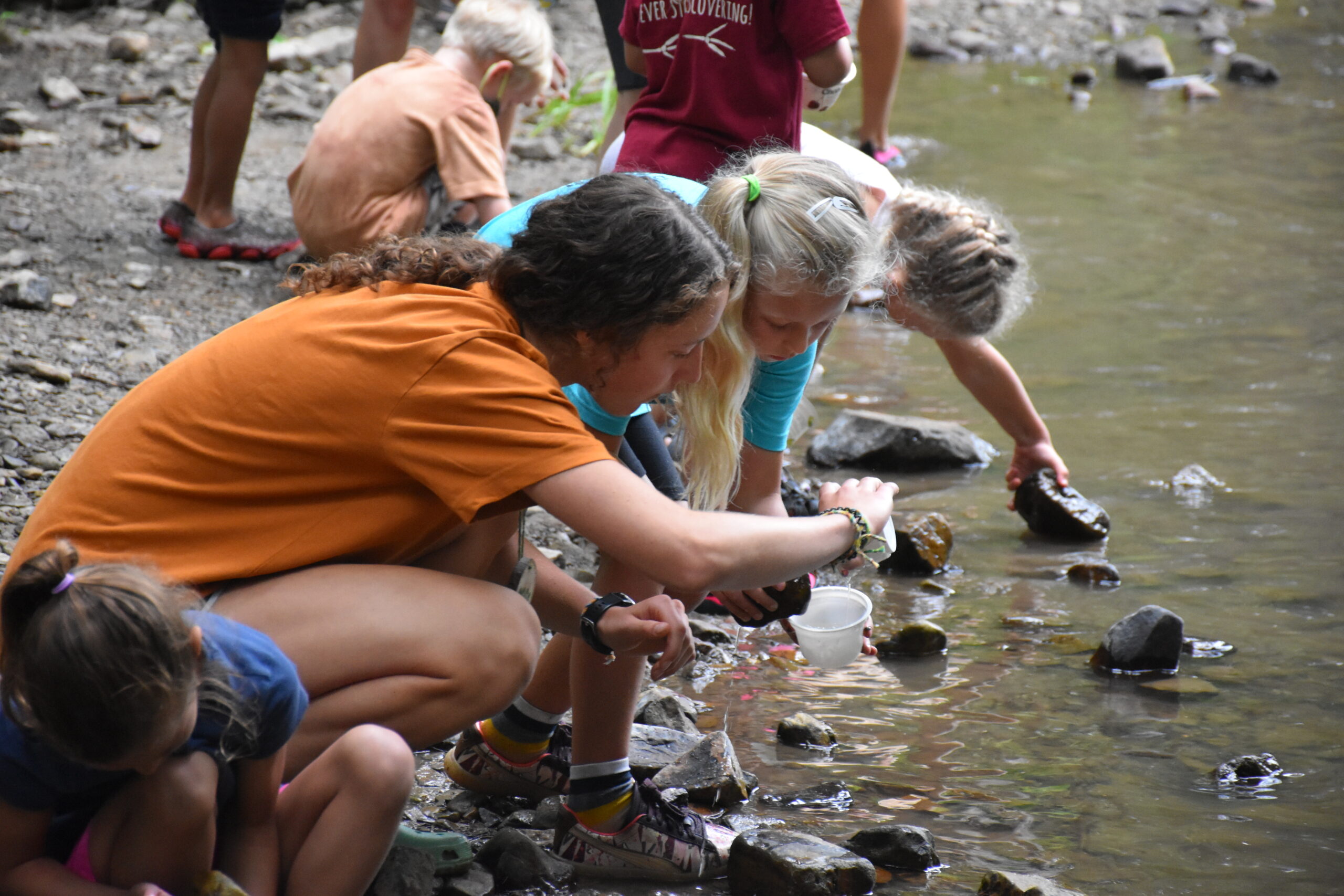 Ages: 14–17 (at time of camp)
The Shaver's Creek Summer Camps Leaders-In-Training (LIT) program provides high school students with an opportunity to develop and exercise their leadership skills while providing young campers with positive outdoor experiences. LITs spend their time at camp in a group of about 10 children ages 4–5 (Wee Wonderers), 6–11 (Discovery/Explorer), or 12–14 (Investigators) that is led by an adult naturalist. The role of an LIT is to support their naturalist by helping to manage the group and lead activities while developing leadership skills and serving as a positive role model for campers.
We are seeking responsible, enthusiastic, and energetic volunteers who value the impact and importance of connecting with the natural world. If you enjoy being outdoors and working with kids, are interested in challenging yourself and working toward personal goals, and want to support healthy relationships between people and the environment, the LIT program might be a great fit for you!
Cost
There is no cost for LIT program participants.
Application
All LIT applicants must complete Summer Camp Preregistration to be eligible to apply to the LIT program.
The online application for the LIT program opens on January 10, 2023, and all applications are due by January 31, 2023.  If you do not receive an automatic, instant email confirming your application then it did not go through. Please try again before reaching out to Marie Taylor at mea9@psu.edu for assistance.
Following application, you will need to schedule a phone interview. The Leaders-in-Training program is popular and there are always more teenagers hoping to volunteer than we can accommodate. Offers will be made to folks who are the best fit. Accepted applicants will be notified by mid-March. 
Time Commitment
Being a Leader-in-Training is NOT a full-summer commitment. You can choose one or more of the following camp sessions, depending upon your availability and preference:
Discovery, Explorer, or Investigators:
June 20–24, 2023
June 27–July 1, 2023
July 4–8, 2023
July 18–22, 2023
July 25–29, 2023
August 1–5, 2023
Wee Wonderers:
July 11–13, 2023
Daily Schedule
Leaders-in-Training must arrive at Shaver's Creek by 8:30 a.m. to help get everything set up for the day. They are dismissed to go home at 4:30 p.m. each day.
LITs who are helping with Discovery, Explorer, or Investigator camp can spend Friday night at Shaver's Creek and help prepare breakfast at 6:30 a.m. on Saturday.
Pre-Camp Throng
Before their week of camp, LITs have the opportunity to meet with their specific naturalist, assistant naturalist, and partner LIT for the week at pre-camp throng. This is an extremely valuable time for everyone as it allows the staff and LITs to get to know each other, talk through the plan for the week, and discuss how LITs will be working toward their goals before camp gets going. Pre-camp throngs take place at Lederer Park (1101 University Dr, State College, PA 16801) and last for approximately one hour. They occur the Monday preceding the Tuesday of camp. We are excited to offer this chance for naturalists, assistant naturalists, and LITs to truly prepare for their week together and feel ready to go when the first day of camp arrives!
Contact
For more information about the Leaders-in-Training program, please contact:
Tesha "Skye" Omeis
Camp Director
Email: skye@psu.edu
Phone: 814-863-8521