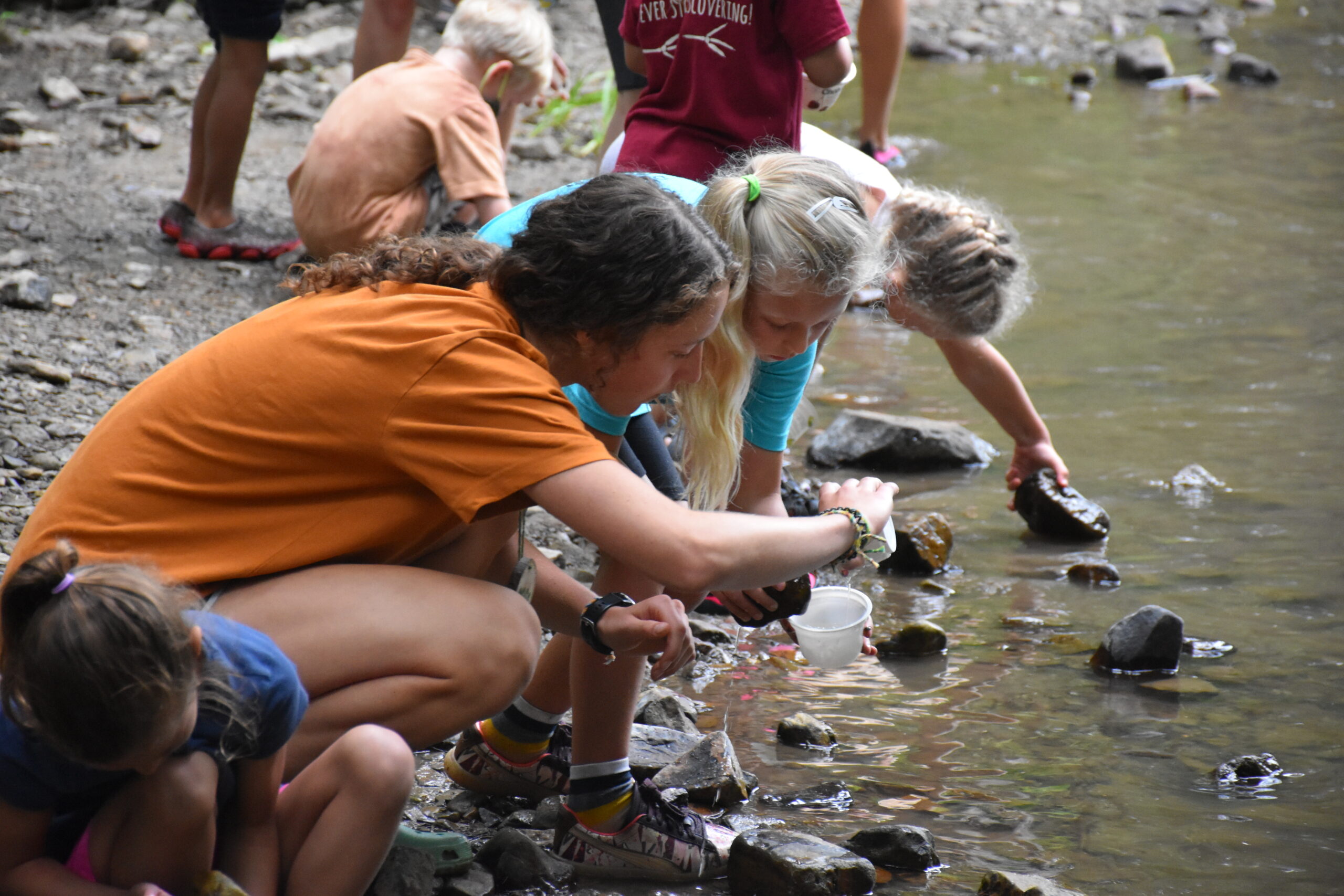 Ages: 14–17 (at time of camp)
The Shaver's Creek Summer Camps Leaders-In-Training (LIT) program provides high school students with an opportunity to develop and exercise their leadership skills while providing young campers with positive outdoor experiences. LITs spend their time at camp in a group of about 10 children ages 4–5 (Wee Wonderers), 6–8 (Discovery), 9-11 (Explorer), or 12–14 (Investigators) that is led by an adult naturalist. The role of an LIT is to provide support to the naturalist through assisting campers, serving as a positive role model, and leading games/songs/activities. 
If you are responsible, enjoy being outdoors, working with kids, are interested in challenging yourself and working toward personal goals, are growth-oriented, and want to support healthy relationships between people and the environment, the LIT program might be a great fit for you!
Cost
There is no cost for LIT program participants.
Time Commitment
Being a Leader-in-Training is NOT a full-summer commitment. First-time LITs are offered one week, at most, during the summer. Returning LITs may be offered one or more weeks.
In addition to their week(s) of camp, LITs must participate in:
LIT Training Day — June 14, 2024 from 9:00 a.m. to 4:00 p.m. at Shaver's Creek Environmental Center
Pre-Camp Throng — This is a one-hour opportunity to meet with your naturalist, assistant naturalist, and partner LIT and takes place the Monday before your scheduled week(s) of camp at Lederer Park in State College, PA. 
Daily Schedule
Leaders-in-Training must arrive at Shaver's Creek by 8:30 a.m. to help get everything set up for the day. Their responsibilities end 30 minutes after camp ends each day.
LITs can spend Friday night at Shaver's Creek and help prepare breakfast on Saturday. LITs who choose to spend the night will be dismissed at 8:00 a.m. on Saturday.
Want more detailed information? Check out our LIT Preparation and Responsibilities page.
Application
There are 3 steps to the application process. All 3 must be completed in the following order by the deadlines specified to be eligible for this program.
Step 1: A parent or guardian must complete the Summer Camp preregistration. This involves filling out forms associated with camp, including the health form. Preregistration is available January 3–31, 2024.
Step 2: A parent or guardian must complete the online application form which includes selecting the weeks the applicant is available throughout the summer. This information is used to determine which week(s) may be offered, and if the applicant's availability changes after the form is complete, we will likely not be able to offer a different week in exchange. This application is available from January 9–31, 2024. If you do not receive an automatic, instant email confirming your application, it did not go through. Please try again before reaching out for assistance.
Step 3: Finally, the applicant will need to schedule and complete an interview. A link to schedule an interview will be provided in the confirmation email received when Step 2 is finished. Do NOT edit anyone else's information or add any new times to the list; this will cancel out your entire application. This step must be completed by January 31, 2024.
On-site interviews (first-year applicants): For first-year applicants, attendance at the on-site interview day (Saturday, February 3, 2024) is required to be considered for the LIT program. (Depending on the number of applicants, there may be a morning and afternoon session that people are divided between.) It will include multiple LIT applicants and camp staff. It will include activities and games that are often part of camp and information about the LIT role; it's designed to give applicants an understanding of LIT responsibilities and what the camp day is like as a LIT. If because of distance, you cannot attend this on-site day, email Tesha "Skye" Omeis. To prepare for this interview, take some time to think about why you are applying to be a LIT, what you are hoping to gain from the experience, and what goals you will set if selected.
Phone interviews (returning applicants): For returning applicants, a phone interview is required to be considered for the LIT program. Choose from the different date tabs at the bottom of the sheet. If you have any questions about this process or how to sign up, please email Tesha "Skye" Omeis. Should you need to, you can use this sheet to change the time you have signed up for up to 48 hours before your phone conversation is scheduled; within 48 hours of your scheduled time, email Skye with any changes/questions. The interview will include you (the LIT applicant), two camp adults, and, if desired, your parent/guardian. It will last about 15 minutes and serves as a chance for us all to ask each other questions. To prepare for your interview, take some time to think about why you are applying to be a LIT, what you are hoping to gain from the experience, and what goals you will set if selected.
With more people wanting to participate in the program than it is designed for, it is possible that even after completing the application process as outline above, an offer will not be made to the applicant. This decision process is based on the interview and past performance (if applicable). Offers will be made to folks thought to be the best fit. All applicants will be notified with their results by mid-March.
Contact
For more information about the Leaders-in-Training program, please contact:
Tesha "Skye" Omeis
Camp Director
Email: skye@psu.edu
Phone: 814-863-8521