The many enticing hiking trails at Shaver's Creek wind through the surrounding 7,000 acres of woodlands, hillsides, and marshlands of Penn State's Stone Valley Experimental Forest and connect to the beautiful trail system of Rothrock State Forest. Stop in our visitor center for a copy of the Shaver's Creek trail map or download it in PDF format.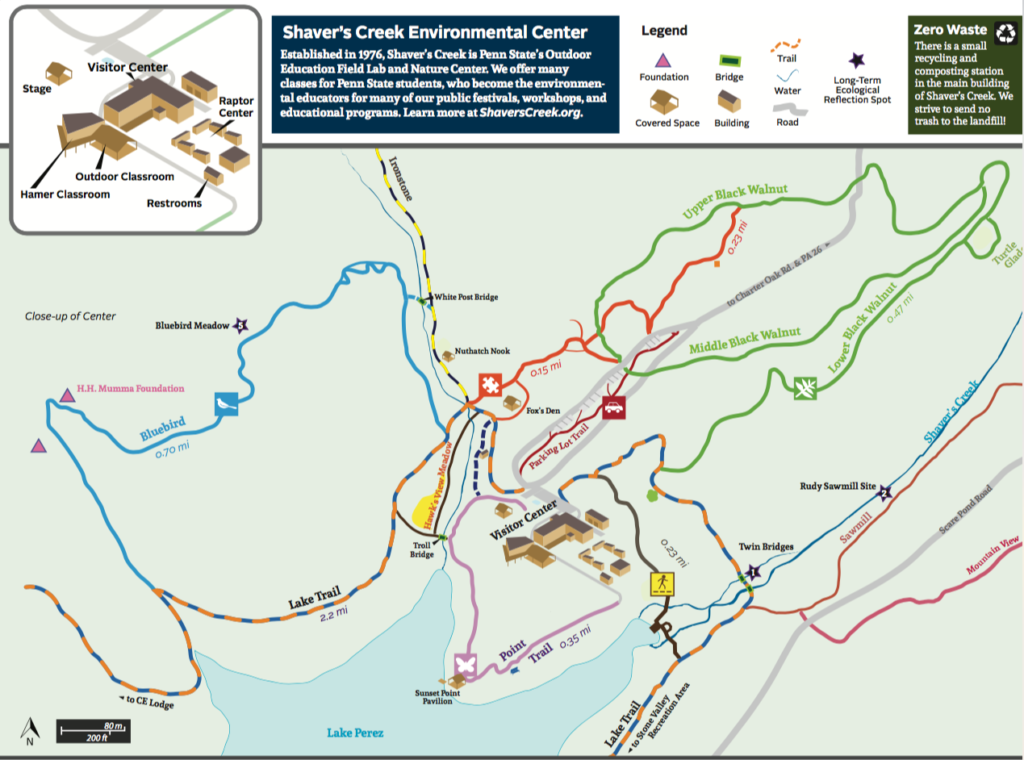 When you visit, be sure to make time for the five-minute stroll down our wheelchair- and stroller-friendly path to the boardwalk that crosses over our namesake creek and provides a view over Lake Perez. It's also an excellent spot for birding and plant identification, so bring your field guide and binoculars!
The Lake Trail circumnavigates Lake Perez, so if you're feeling more adventurous, continue past the boardwalk to complete the 2.9 mile loop around the lake, across varying terrain and the dam itself. Penn State's Stone Valley Recreation Area is also just a short walk from the boardwalk along this trail.
There are a number of surrounding trails of various lengths. Stop in the bookstore for some tips on current happenings in the natural world and ideas for hikes!
Distances of nearby trails, in miles

| Trail Name | Distance |
| --- | --- |
| Lake Trail | 2.90 miles |
| Boardwalk Trail | 0.25 miles |
| Twin Bridges Trail | 0.25 miles |
| Lower Black Walnut Trail | 0.50 miles |
| Upper Black Walnut Loop | 0.80 miles |
| Point Trail | 0.35 miles |
| Potter's Puddle Trail | 0.25 miles |
| Bluebird Trail | 0.65 miles |