Shaver's Creek partners with many academic colleges across Penn State to offer courses in environmental interpretation, outdoor/adventure education, and leadership. Every spring, students interested in these subjects can also take the Shaver's Creek SEED Semester, a 17-credit experiential journey.

Shaver's Creek's undergraduate programs are listed with many departments around the University, including Recreation, Park, and Tourism Management (RPTM), Ecosystem Science and Management (ESM), Science Education (SciEd), Engineering (ENGR), Leisure Studies (LE ST), and more! Some of our courses also count toward the Intercollege Minor in Sustainability Leadership. While some of our classes meet on campus, many are held at the center.
To see a list of all Shaver's Creek classes, visit LionPath's Search for Classes menu. Select "University Park" as the campus and "SHAVERS" as the Location. Shaver's Creek classes will also show up if the Location field is blank (but they will NOT appear if the Location field is also set to "UNIVPARK").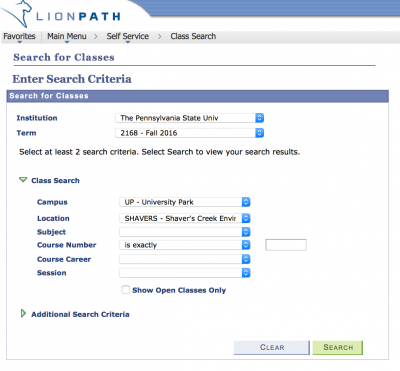 Please note: Some courses have registration controls and may require acceptance by the instructor. If you do not find a course listed in the schedule of courses, please contact us at 814-863-2000.