Welcome to Shaver's Creek
Visitor Center is now open! Raptor Center coming soon.
The Center has just completed the largest expansion and renovation project in its 40-year history. Our Raptor Center enclosures are still under construction, so you may not be able to see any of the birds of prey until later this fall. Our regular Meet the Creek programming will continue later this fall. We're currently developing exhibits and installations for the Discovery Rooms and bookstore, too!
What's Open?
The trails in Stone Valley Forest are accessible. Our Penn State credit courses will continue either at the Center, at the University Park campus, or (for the AURORA program) in forests across the country! Outdoor School is a go in its familiar Camp Blue Diamond location, and Summer Camp returned to its familiar home of Shaver's Creek in 2018. Please look for our traveling naturalists at public events like Arts Fest, Ag Progess Days, and various other events.
Latest Blog Post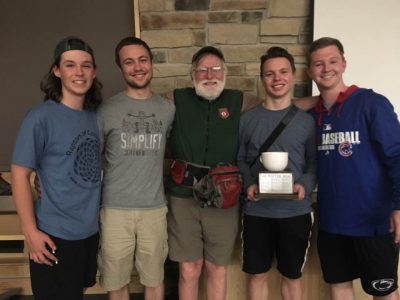 Birding Cup 2018: Truly a Community Event
May 9, 2018
by Justin Raymond Shaver's Creek is putting the finishing touches on what has been the biggest renovation and expansion in its history, and with it has come lots of small adjustments. ...