Last year, the Penn State Methodology Department's Green Team enrolled in the CSO's Green Paws certification program, of which Shaver's Creek has attained Level 4.  The Green Paws program outlines actions your office can do immediately to "green" your workplace, and suggests energy-saving behaviors like using the stairs instead of the elevator, unplugging laptops when fully charged, turning off lights if no one is in the room, and so forth. Simple stuff—yet the Methodology Department calculated that they saved 12% on their electric bill by encouraging these actions!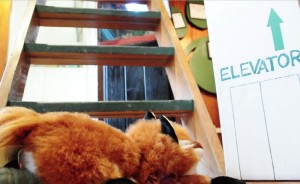 This inspired the CSO to ask: what if other departments on campus stepped up and tried these energy-saving procedures, with a little competitive incentive for good measure?
Thus, the 12% Energy Challenge was born. A checklist with a concentrated dose of easy-to-implement actions based off of the Green Paws program was designed and distributed to all Green Team participants. The focus of the challenge was to get people involved and to exercise these simple behaviors for two weeks. The grand prize of a pizza party was promised to the winning Green Team, which would be judged on the highest percentage of staff participation as well as a creative entry about their two-week experience.
Shaver's Creek decided to base the second installment of our Zero Waste Watch series on this challenge. Take a look at our puppet-inspired entry!
Whether it was the charisma of our Green Team Leader Laurie McLaughlin or the stunning eloquence of our puppeteers and voice actors, I can't say—but Shaver's Creek won first place in the 12% Energy Challenge! Woohoo! We encourage you to check out the runner-up's entry, the Undergraduate Admissions Office Goes Green.
Since the challenge, people have continued to unplug their laptop power cords when not needed, actively turn more lights off, and take the stairs to the children's loft instead of the elevator. Oh wait, that last one's just for the puppets.
For some tips on how to go zero-waste at home, check out how one family took the initiative to go zero waste.
—Justin "Rutabaga" Raymond, Communications/Marketing Intern