Here at Shaver's Creek we strive to use only what we need, and to recycle (or compost) all that we discard. What better way to recycle used wires, take-out food containers, cardboard boxes, aluminum foil, and soda bottles than to get the creative juices flowing with a fun art project?!
During Raptor Camp two weeks ago, campers chose from an assortment of discarded materials to design and build their own bird of prey. Both teams successfully found creative ways to construct wings, beaks, talons, and eyes—using only what was in the recycling bins and a hot glue gun.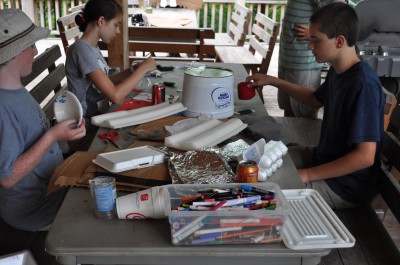 This is a fun way for any child to use his or her imagination, learn about animals, get involved in the recycling process, and have loads of fun! We built some rockin' raptors!
What can you build with what's in your recycling bins? Send us a photo of any fun end-of-summer sculptures you've created out of reused and recycled materials, and we'll post some of them to Facebook.
~Christine "Vireo" Esche, Summer 2012 Environmental Education Intern