As the fall season winds to a close here at Shaver's Creek, we're getting excited to start watching our bird feeders! November 10th marked the beginning of the Cornell Lab of Ornithology's Project FeederWatch, a nation-wide citizen science program whose goal is to monitor the movement and distribution of birds during the winter months.
Many of the birds observed at feeders during the winter months are winter residents of Pennsylvania. Some of our feeders' most consistent and numerous visitors are the Dark-eyed Junco, American Goldfinch, Black-capped Chickadee, Tufted Titmouse, White-throated Sparrow, and Pine Siskin. These social birds visit our feeders in large numbers to feed on energy-rich seeds and peanut butter. Other birds, including Carolina Wrens, Nuthatches, and several species of woodpeckers frequent our feeders singly or in smaller numbers to feast on seeds and suet.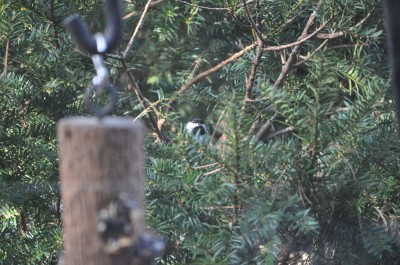 This will be Shaver's Creek's sixteenth year of watching feeders for Project FeederWatch, and we're eager as ever to see what birds this winter will bring to our feeders. Every Monday and Tuesday until early April, Shaver's Creek staff, volunteers, and visitors are invited to observe some of our winter resident birds and join us in collecting data for this fun and educational citizen science project. We'll be watching our feeders. What will you be watching?
To join or find out more about Project FeederWatch, visit http://www.birds.cornell.edu/pfw/index.html.
~ Ashley "Little Blue Stem" Dang, Fall 2012 Intern