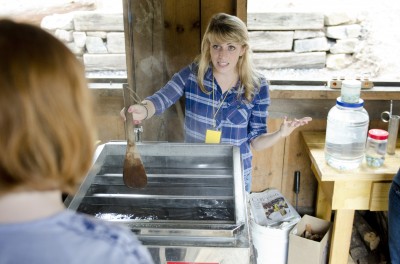 The Shaver's Creek Maple Harvest Festival is coming up, and we're putting out the call for any volunteers who want to join in the fun and food! This year's festival is on Saturday, March 23 and Sunday, March 24, from 10:30 a.m.–3:00 p.m.
As you may know, the Maple Harvest Festival has been celebrated here at Shaver's Creek since 1984. The festival features a trail of learning stations where visitors can learn the process of making maple syrup from tapping to boiling, and an all-you-can-eat pancake breakfast with REAL maple syrup (free for volunteers!). There will also be live bird-of-prey and reptile shows, awesome live music, and guided trail tours. It is an exciting community experience for visitors of all ages! To read more about the festival, visit www.ShaversCreek.org/pancakes.
Volunteers are crucial to the success of the weekend, as more than 1,500 community members attend the festival every year. This is a great way to get involved in your community and to lend a helping hand where it will be much needed and appreciated. We will need about 50 volunteers each day to help with the welcome tent, sales and concessions, parking, and food service. If you are a talented musical artist, we would also love some volunteer musicians!
We ask that each volunteer contribute four hours to the festival on Saturday OR Sunday (9:00 a.m.–1:00 p.m. or 12:30–4:30 p.m.) While these four-hour shifts are standard, we always love and appreciate when people stay for both shifts, or come both days!
If you are interested in volunteering, please let us know by Tuesday, February 26, and let us know whether you plan to bring a group and exactly how many people you plan to bring. Once we hear from you, we will send more information your way. If you have a preference for specific shifts or days, please let us know and we'll try to accommodate you. Also, if you have days or times you absolutely cannot do, note that as well.
Thank you for your interest and any help you may have offered in the past. We could not run our festival without the help of volunteers like you!
Have a maple-icious day!
~Kim "Cedar" Pedersen, Spring 2013 Environmental Education Intern
Maple Harvest Festival Volunteer Coordinator
kap5271@psu.edu