In the spring of 2011, I first reported on a family learning research study taking place at Shaver's Creek.  In the year and a half since that first blog posting, a lot of time, energy, and hard work has gone into the research endeavors supported by the partnership between Penn State's College of Education and Shaver's Creek Environmental Center. This research has resulted in numerous conference presentations and work towards journal publications.
Dr. Heather Zimmerman (Assistant Professor of Education in the Department of Learning and Performance Systems), Michele Crowl (doctoral candidate in Science Education and Education Coordinator at Discovery Space of Central PA), and I first began collecting data in the spring of 2011 with volunteer families who either attended regularly scheduled public programs featuring nature walks or hiked on their own as a family group. This data collection period lasted until the fall of 2011 and resulted in over 17 hours of video and audio footage.  These recordings were subsequently transcribed, analyzed, and coded for major 'themes' about how families interact while hiking together, what tools they use in order to learn more about the natural world, and the patterns of family conversations that occur about science in the outdoors.
Our research has produced fruitful insights into family learning in outdoor-based informal science venues and environmental education programs.  The importance of this work has also provided us the opportunity to present our findings at several conferences over the past year, including:
| | |
| --- | --- |
| | The Pennsylvania Association of Environmental Educators (PAEE) in Entriken, PA (February 2012) |
| | The National Association for Research in Science Teaching (NARST) in Indianapolis, IN (March 2012) |
| | The Association of Science-Technology Centers (ASTC) in Columbus, OH (October 2012) |
And upcoming conferences presentations include:
| | |
| --- | --- |
| | The National Association for Research in Science Teaching (NARST) in Puerto Rico (April 2013) |
| | The American Educational Research Association (AERA) in San Francisco, CA (April 2013) |
Our two biggest accomplishments came about over the past several months when we were notified of our acceptance for publication in two prestigious journals, Research in Science Education (RISE) and Environmental Education Research. These are just two of the several ongoing writing projects that have resulted from the data we collected with the enthusiastic families who so graciously spent time with us in order to make these research achievements possible. Stay tuned for more news as we move forward with our work!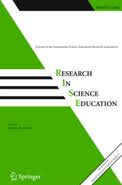 To read our RISE article, please visit the SpringerLink website:
http://link.springer.com/article/10.1007%2Fs11165-012-9334-x