In a world saturated with such vast technological advances as ours, there is something to be said of appreciating the more basic and primitive skills of survival in the wilderness.  One group of such primitive survival skills is that of different fire making techniques.  Among our talented environmental education interns, Shaver's Creek's very own Nora Rye harbors a substantial foundation of knowledge in the field of primitive fire making, thanks to her leadership experiences in wilderness-focused backpacking trips for young adults.  In an effort to share her understanding and appreciation for the art of primitive fire making, Nora will be hosting a hands- on workshop this Friday, May 17, from 6:00–8:00 p.m. at Shaver's Creek Environmental Center!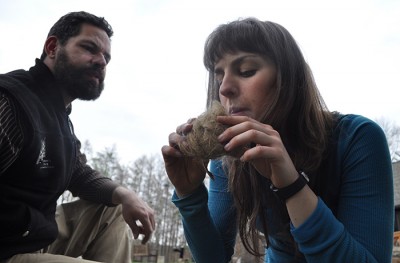 Participants in the primitive fire making workshop will have the opportunity to utilize natural material found in the great outdoors for sparking a fire, as well as practice specific techniques of primitive fire making, like bow drilling!  All levels of experience in fire making are welcome, whether you just learned how to strike a match, or are hoping to refresh your once-refined primitive fire making skills.  We ask that participants be at least 15 years of age or older, and if possible bring along a personal pocket knife and comfortable outdoor clothing for participating in the workshop.
This one of a kind workshop is FREE for members of Shaver's Creek, and we politely suggest a $5 donation for non-member participants.  To register for this event, give the folks over at the Creek a call at (814) 863-2000.  It's always a mystery what you'll discover when you stop by Shaver's Creek Environmental Center!  Our primitive fire making workshop is no exception to this rule, so come on over this coming Friday evening and be amazed by practicing the art of primitive fire making with Nora!