We welcome you to Outdoor School, we're really glad you're here… We'll send the air reverberating with a mighty cheer!
This cheer welcomes a caravan of buses every week of the spring and fall seasons to Outdoor School for a magical week of  exploring and learning.  Outdoor School is an environmental education program that serves fifth-graders from Central PA, primarily Huntington and Mifflin counties. This four-day residential program provides students with a positive outdoor experience while addressing Pennsylvania standards for Environment and Ecology.  The fall season ended November 1st, after six weeks of fun and learning at Camp Blue Diamond, located a few miles from Shaver's Creek Environmental Center, surrounded by the lush Rothrock State Forest. Fifth-graders experience the magic of learning through daily lessons of "Cycles," "Resources," "Living Things," and "Then & Now."  The magic of Outdoor School is embodied by all staff—counselors, learning group leaders, and directors—who use nature names instead of their real names. Nature names provide teachable moments about Pennsylvania natural history—for instance "Xylem," the specialized cells that facilitate movement of water and nutrients in vascular plants, is also the name of the Outdoor School program director.
The Phantom Inspector also adds to the magic of Outdoor School; a frequent visitor who leaves behind notes and clues relating to lessons. The true identity of the Phantom Inspector is unknown but his/her legacy of being a friend of Outdoor School lives on each week, whether it's in a note found in a camper's shoe after a stream study or stuck under a chair after lunch.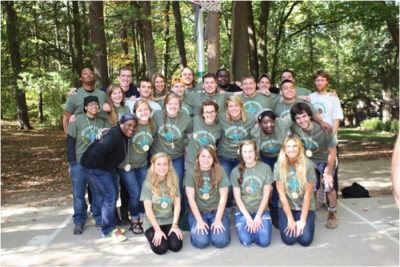 Outdoor School provides a positive outdoor experience and a hands-on learning opportunity for fifth graders, Penn State students, and Shaver's Creek interns alike.  During the week, fifth graders live in small cabin groups with two counselors, which are Penn State students who applied and were accepted to fill this role. Counselors provide leadership to fifth graders in their cabin groups and teach at least one environmental education-based lesson.  Learning Group Leaders, comprised of veteran Penn State students and Shaver's Creek interns, organize teaching teams with counselors to plan and lead lessons. "This is the best teaching experience I've ever had," Zoey "Newt" Greenberg, a Shaver's Creek intern, relayed about her experience as a learning group leader.
"We had a great season this year,"Matt "Cardinal" Marsden, Assistant Program Director, reflected at the end of the season. It is great to see a change throughout the week as fifth-graders see the importance of and their sense of connectedness to nature—as well as opening up and interacting with other campers and their leaders respectfully. Another Shaver's Creek intern, Travis "Fungi" Smith said, "It is amazing how you can see changes in kids in a matter of a few days."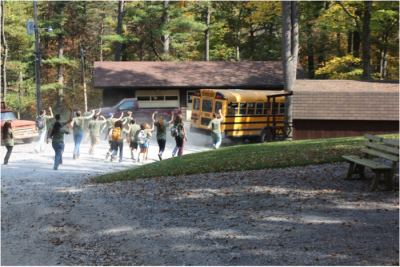 Outdoor School is all about fun, learning and interrelationships. Leaving Outdoor School is often bittersweet, holding on to the magic of the week and leaving with an eagerness to share a new sense of stewardship with the greater global community.