We started off the spring 2014 Outdoor School (ODS) season on April 7th, and it was my fourth week as a Learning Group Leader (LGL). Despite my familiarity with the routine, each week of ODS is still special, and I feel emotionally attached to the place, to the kids, and to the experience. What is it about ODS that makes kids and counselors alike cry as the bus pulls away, that makes normally quiet people stand up in front of a hundred people and sing campfire songs at the top of their lungs, that changes people's lives? Well, in short, it's the C.A.M.P.E.R.
C is for Community—The community of students, counselors, and staff bound together by experience and tradition. And of course at ODS, the community is not just the people, but also the place­—the plants, the animals, the earth. Lifelong friends are made and fond memories created here at ODS because of the supportive, enthusiastic, and caring community. From the moment they arrive to the moment they leave, the kids feel loved and valued. Every adult at ODS cares for their well-being and happiness, and the result of this love is tangible in smiling faces. Counselors and LGLs feel empowered in their work with the kids; it's a pretty amazing thing to know that you've touched a child's life, and that they will remember you forever. The love, energy, and support that ODS program directors Xylem, Cardinal, Thunder, and all of the Camp Blue Diamond staff pour into ODS ignites the community, letting it shine. And so, ODS starts with the community.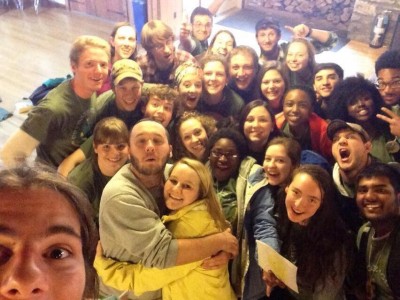 A is for Aha!—that's the light bulb moment when you blow a kid's mind. I believe we learn through the connections we make, and kids are making connections left and right at ODS. Kids are inspired, their imaginations sparked, and their sense of place strengthened. Those who may have a hard time sitting still in the classroom, or who struggle with learning from a book, find their stride at camp, where playing is learning and learning is playing. Photosynthesis is taught through a game of blob tag, and stream health is analyzed by catching macroinvertebrates and salamanders. When they come to ODS, kids think critically about what they know, and feel empowered in their learning. A boy who attests that soil doesn't matter to him, but insists he likes hamburgers, works his way through the chain that connects him and his favorite food to the soil, ending with a long "oooohhh" of understanding. These connections and inspirations are the kind of learning that happens at ODS: that Aha moment!
M is for Magic. Fifth graders still want to believe that time machines and moon rocks (residing in central PA) exist; that the Phantom Inspector who tapes notes under chairs at dinner is the greatest mystery of the age, and the counselors live only as their Nature Name alter egos in the world of ODS. Growing up so fast, fifth graders sometimes aren't given the opportunity to just be kids and believe in magic. When I ask them to explore freely, searching for anything they think is really super cool, a lot of the kids take a while to get started. Asking them to simply be kids and explore, to get swept away by their imaginations, is almost more difficult for them than taking a math test. Part of the power of ODS is its magic―the mythical traditions and the opportunity to slip into the world of imagination and be a kid, free and clear. The kids believe in the magic, and so the experience of ODS sticks with them forever.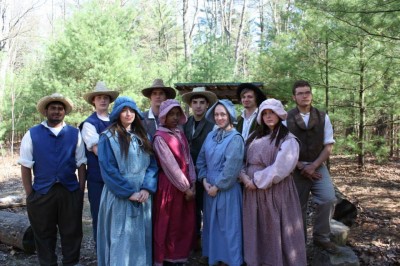 P is for Positive Outdoor Experience. ODS is of course about being outdoors, and nurturing an affinity for and knowledge of the natural world that will last a lifetime. To do that, it's important that the experiences the kids have outdoors while at ODS are positive and fun, turning them on to being outside, instead of turning them off. We make sure the kids are prepared with warm layers and rain gear, full water bottles and big meals, because until these basic needs are met, no child is going to have fun on the trail. The woods and streams of Camp Blue Diamond become a place for the kids to explore, to play, and to imagine. They feel ownership over the place, and an affection for it that is powerfully demonstrated in the Community Meeting which happens at the week's end. The campers attend a presentation from a visitor who wants to develop the land, and must weigh the pros and cons for the plants, animals, and humans who live here. After hiking on the trails and playing in the woods, splashing in the stream and running in the fields, kids feel extremely protective over this place where they have had such a positive experience, and don't want anything about it to change. The hope is that these positive outdoor experiences and the affection for Camp Blue Diamond will transfer to their daily lives, that the kids will continue to have fun learning and playing in the outdoors, and feel the same protectiveness towards other natural places they encounter.
E is for Engagement. ODS is not a place that you simply float through. It is a place to dig in, think critically, and play hard. Having 12 fifth-graders clustered around me, eagerly looking at an Eastern Phoebe drinking in a stream: that to me is engagement. It is also about taking responsibility for your actions. The kids are responsible for making positive change through activities such as Zero Food Waste. The enthusiasm that drives 70 fifth graders to clean their plates and waste no food could change the world. The students at ODS are learning by doing, and are emotionally attached to their place in the community. They matter and their actions matter in a way that is empowering, and that is unique for a child today. Curiosity is sparked and encouraged, and the kids' connection to the natural world is reinforced. Encouraging the kids to think about their actions, at Camp Blue Diamond and at home, puts the power of change in their hands. They are engaged at ODS, and begin to build their toolbox to engage more actively in their home communities.
R is for Respect. Respect for all members of the community is taught as an integral part of ODS. The close-knit cabin and learning groups rely on respect so each member feels at home and welcome. The leaders respect the kids as important individuals, and demonstrate this respect through their energy and love. When I create a group contract with my Learning Group at the beginning of the week, I ask the kids for suggestions about group rules. Inevitably, "respect" comes up, and I encourage the kids to dig deeper — what exactly is respect to them? Who do they need to respect? It's not just the leaders that deserve their respect, it's also their peers, themselves, and the extended community of plants and animals and land around them. Putting themselves in someone else's shoes during the Community Meeting challenges them to think about some of the more tricky aspects of respect: respecting those who do not have a voice, respecting those with whom you disagree, respecting those who may be in your way. The respect that we practice and that we encourage at ODS is the glue that holds it all together and makes the community work.
Outdoor School is a special place to me because of the CAMPER: Community, Aha Moments, Magic, Positive Outdoor Experience, Engagement, and Respect. It is idyllic, and sometimes seems disconnected from the real world. But I strive to bring the feeling of Outdoor School with me wherever I go―exploring and imagining and digging deep. And I encourage my campers to do the same. The spirit of Outdoor School isn't just alive at Camp Blue Diamond; it is anywhere the CAMPER is.