Late morning in early July, ten girls create intently in a hemlock grove. In this, their third day of Wild About Arts Camp, they've been given a prompt that requires no paper, no pencils, and no paint — just their imaginations and the forest. They are building small structures from piled sticks thatched with moss. Some weave long grass through upright twigs. The creek, where they will later sketch and soak their feet, burbles just beyond. The girls offer each other suggestions in voices bright with the hunt. "This bark would be perfect!"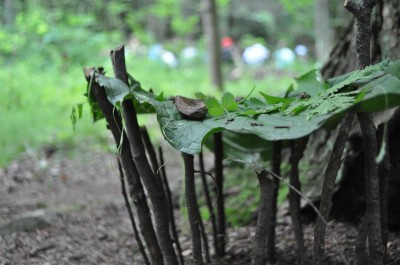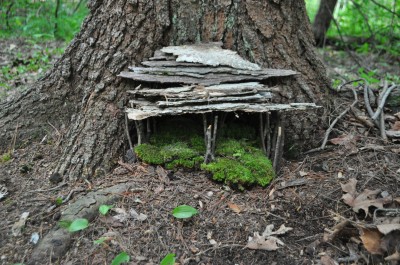 At thirteen and fourteen years old, the campers are able to both rekindle the magic of fairy houses and access a more adult eye for form. For these minutes of building, their awareness channels into their materials: piles of tiny hemlock cones, frills of lichens, a rug made of fern. The textures of light and air play around them. Perhaps the impetus to growth apparent everywhere in the natural world is also the desire, in people, to create. The words flowing from the campers' pens the next day in a poetry workshop share something with the motion of the creek — sometimes lyrical, sometimes sharp and comic. It seems right that a house wren should be singing full-throttle on a wire not far from where the girls shriek in delight, as they plunge hands into basins of wet paper-pulp the consistency of oatmeal. There is abandon in both — in the pronouncements of the bird and in the giggles of the young artists.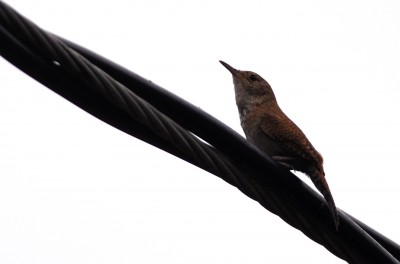 Mid-summer growth feels irrepressible, the raspberries coming on quick; with the worlds of insects busy all around, the girls one afternoon clap their hands and bang on whatever noisemakers they can think of, in a drum circle that crescendos and diminishes. Under shelter, after a thunderstorm, they sing rounds; the melodies rise and fall. Again and again throughout camp, the girls are asked to open their awareness. Can they see in different ways? Can they give a backseat to their inner critics?
Their companions for the week are the hand-bound journals they make on their first day. They take them along on a sketching scavenger hunt by Twin Bridges, they sit with them in the "solo spots" they choose, they affix in them the blue sun-prints they make on special paper, as well as the paper they marble and the paper they make. They laugh at stories they write collaboratively. When making marble-sized balls out of clay, compost, and seeds — which are meant to be chucked into vacant lots or other spots thirsty for the beauty of flowers — they propose a different world. "What if…," one girl wonders, as she is rolling her seed-balls, "What if instead of wars being fought by fighting, the object were to see who could make the most beauty?" "Yeah!" another girl chimes in, "What if the country that could make the most gardens was the one who won?"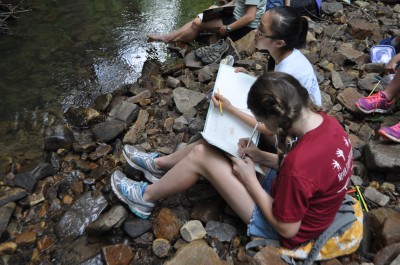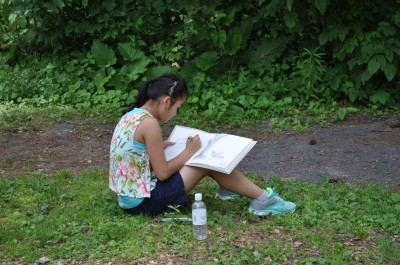 Years from now, their memories of this week will fade. But perhaps its themes will prove lasting; and these girls will grow into women whose weapon is beauty. Who will walk through the world with eyes open.
***
Wild About Arts Camp took place from June 30–July 3, 2014. It was open to boys and girls ages 12–14. It was directed by Johanna "Juniper" Jackson, assisted by three environmental education interns: Alexa "Vireo" Sarussi, Hannah "Flicker" Inglesby, and Tom "Sundew" Foley. Visiting artists were Ann Taylor and Elora Grahame, who taught workshops in sketching and colored pencil, respectively. The week culminated in an art show for campers' families.