A van loaded with animals, a jeep full of interns, and a sedan of two State College residents make their way in the early morning of Tuesday, August 12th, to commence Shaver's Creek activities at Ag Progress Days. No rain, wind, or mud will stop us. I trudge through the mud and grasp my raincoat shut to prevent the pouring rain from soaking me. My co-worker realizes that boat shoes were a bad choice. In our tent, our fellow intern Ben greets us by singing "It's a Beautiful Morning." As we unload the animals, and set up our tent for the day, no one knows what to expect. For us interns, it is our first Ag Progress Days experience, and we are pumped…rain or shine!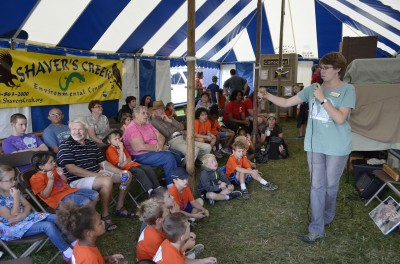 Ag Progress Days, sponsored by Penn State's College of Agricultural Sciences, is held at the Russell E. Larson Agricultural Research Center at Rock Springs, nine miles southwest of State College, PA. Over 45,000 attendees are estimated to visit the 400 exhibitors present, and the Shaver's Creek traveling naturalist crew is on-site each year with hands-on exhibits and animal interpretation.
Coffee, coffee, coffee! Lots of warm drinks help us counteract this cold, rainy Tuesday. With smiles on our faces and mugs in our hands, we man our stations, ready to educate our first visitors…and they come! For the next three days, we deliver programs on amazing amphibians, tubular turtles, snazzy snakes, and bodacious birds of prey. As interns, our "team mom" Kevin/Thunder guides us through a rotation schedule each hour. When we are not manning a table or presenting programs, popular activities include consuming maple syrup milkshakes, singing rounds, cheering on turtle races, and mastering the art of napping in the "Goose" (our staff vehicle).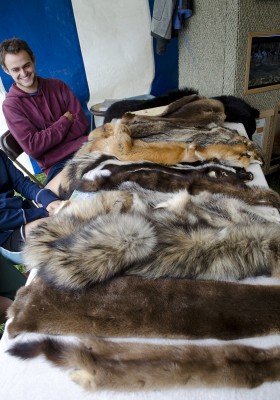 Day two quickly approaches, and of course we have to keep things interesting in the Shaver's Creek tent. What better way to accomplish this than by creating the inaugural Pelt Challenge?! Any interested participants were timed and tested on their knowledge of eleven animal pelts, from mink to skunk to otter. I am proud to announce the first annual Pelt Challenge winner is Blaine, with a time of 6.09 seconds! That's 1.8 pelts per second!
Meanwhile, our mystery box challenged the brave of heart as they stuck their hand inside to guess an object by their sense of touch.  Puzzled looks overcame children's' faces as I told them not to worry, the rattlesnake was removed from the mystery box—but turtle shells and raptor talons made for exciting mystery items.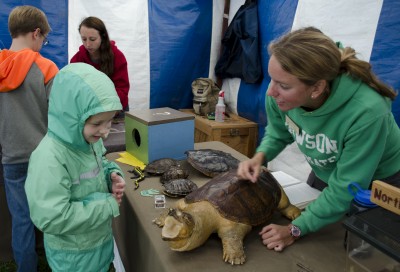 All in all, it was an enjoyable and successful three days at the Shaver's Creek tent.  As the days of my summer internship begin to dwindle, I recount the memories and friendships made over the past three months. It truly has been, as we often say, "the best summer ever."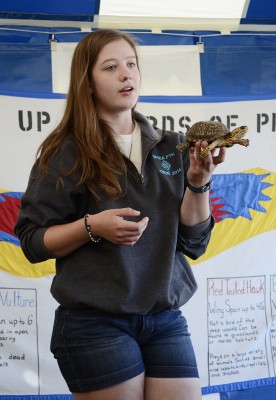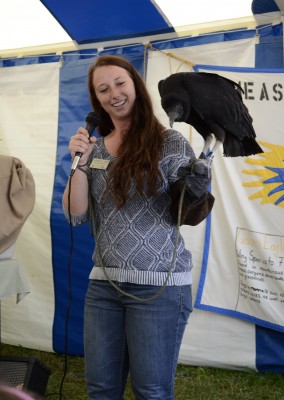 With photos by Alissa Pendorf.