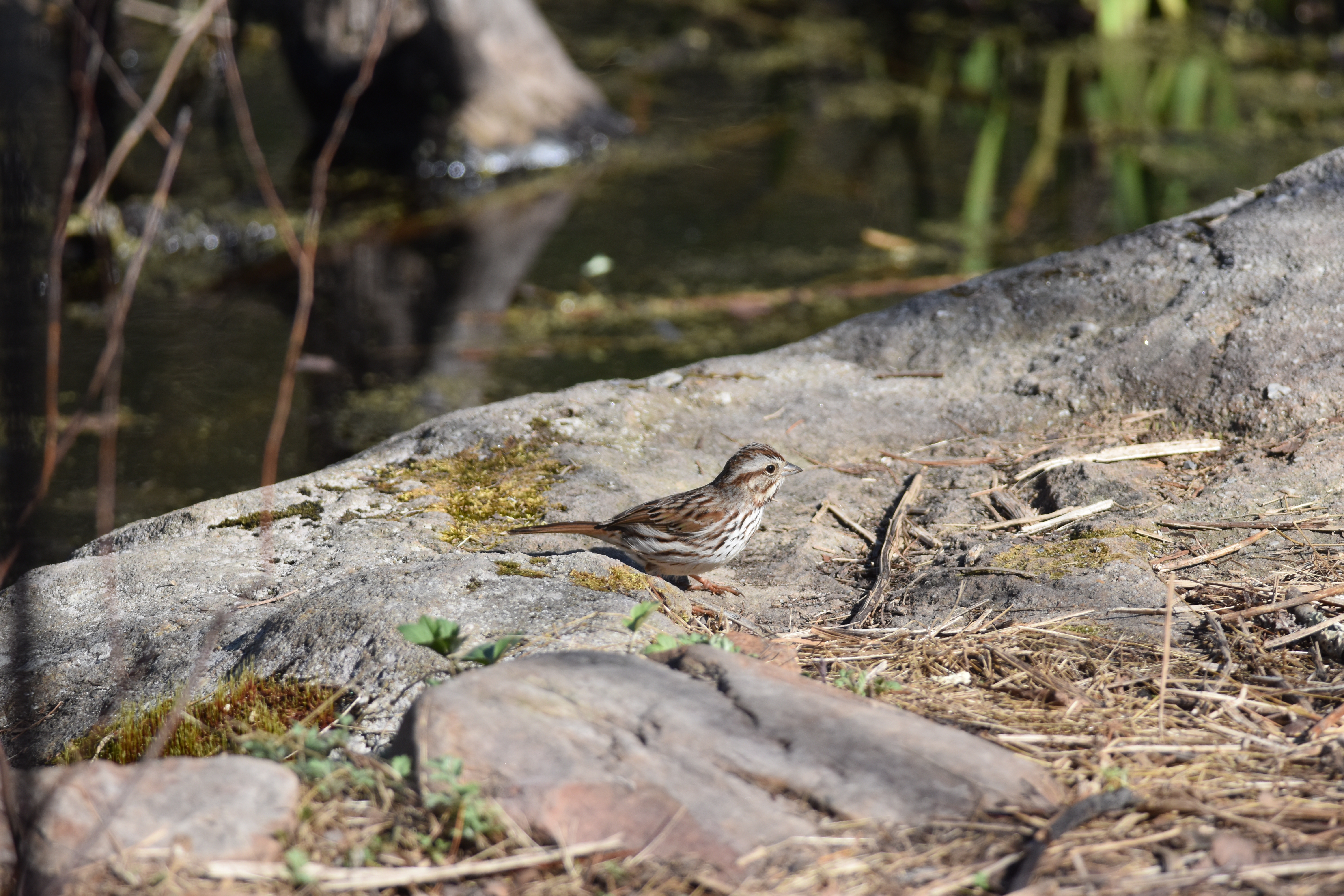 It's 6:20 am.
My day begins to the sound of an alarm and I wake up in a bed that's not mine.  I'm at Outdoor School filling in for a counselor whose paperwork didn't come in time. I help the kids get ready for the day, making sure they have an extra warm layer, rain gear, a water bottle, and of course their wood cookie. We head up to "The Dip" to use the bathroom and brush our teeth. By the time the kids finish up, Log, my co-counselor, has joined us, and I pass the torch and head to the next part of my day.
It's 7:15 am. 
I arrive at Shaver's Creek and see a group of people congregated at the bird feeders. I hurry in the door, drop off my backpack and grab the Center's camera. I catch up to the group at the Point Trail where they have just spotted an Osprey across the lake. This is our weekly Migration Morning bird walk, and I attempt to get pictures of new birds I haven't seen before. I have minimal success because of the early morning shadows—but I stay determined. We loop around and head back towards the Center where I snap a picture of both a Downy Woodpecker and Tufted Titmouse—two species I have seen before but never photographed. Next comes the Boardwalk Trail. We spot several species on our way, including a male Eastern Towhee singing by the trail, and I'm able to snap a picture of it. It doesn't seem to be bothered by me and so I switch the camera to video mode to capture the classic song, "drink-your-teaaaa". We end Migration Morning at the boardwalk and everyone goes their separate ways, and I meander back up to the Center.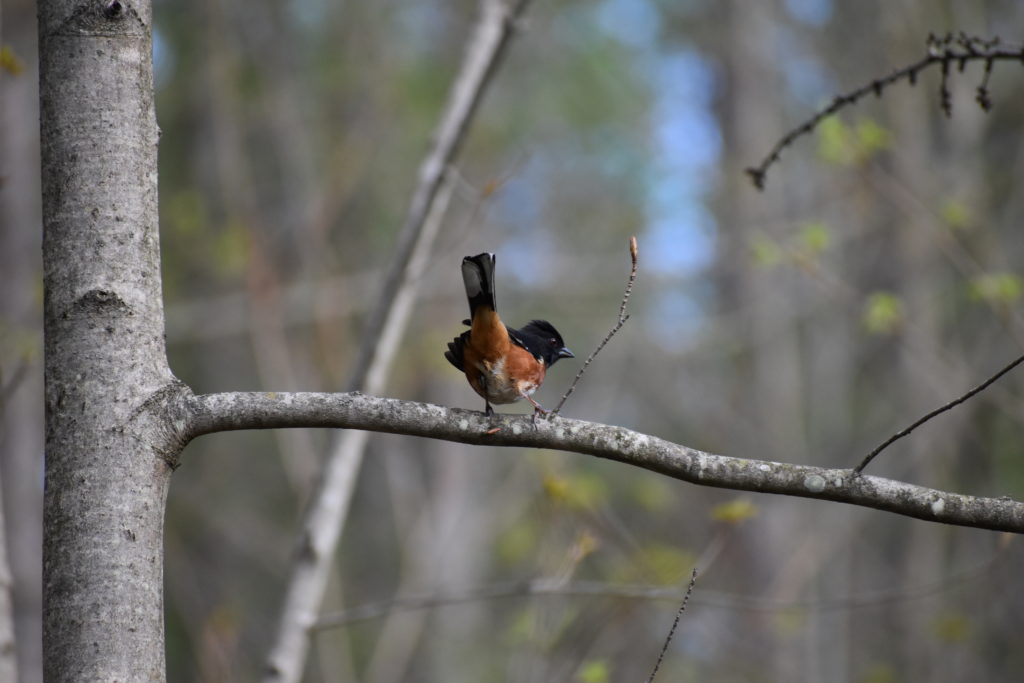 It's 8:45 am. 
I walk into the staff kitchen to see my fellow interns preparing for a school program later in the day. Doug is recalling all the bird species we saw on our walk and Josh is going over in his head all the names of those who joined us on the walk. I spend a few minutes helping with the lists. I head to my desk and transfer the pictures from the walk onto my computer and sort through the good and the bad. I check my email and then head to Josh's desk to see what he needs from me that day. I'm Operational Intern this week, responsible for opening and closing the center, greeting and directly visitors, and other general facility work. He will be heading to a meeting at 10:00 am and needs someone to work the front desk, answer phones, and greet visitors as they arrive. I have some time and so I grab the Center's camera again and head outside to enjoy the sun. I spot a bird by the pond that I don't recognize, and I snap a picture. I look at my phone, see the time, and head inside.
It's 10:00 am.   
I sit at the front desk looking over the pictures I just took and cross-referencing them to my field guide. I have a guess but I'm not quite sure. I pull up an eBird photo quiz to continue sharpening my skills. I then pull up a PowerPoint I have been working on and practice a round or two to prepare for the interview I have later that day. Josh returns and takes over watching the desk as I head out to the maintenance building to talk to Brian. On my way there, Xylem stops me and asks if I can overnight again at Outdoor School and gives me some time to think about it.
It's 11:00 am. 
Brian tasks me with assembling two new wheelbarrows for use this weekend's volunteer work project. I complete the first wheelbarrow and take it for a test run. I have Brian check it over and it's approved. I walk inside to grab a drink and pass Xylem's desk. She's on the phone but I make a sleeping motion and then give her a thumbs up, she nods, and then I head outside. I complete the second wheelbarrow in much less time now that I know what I'm doing. Brian asks if I can fix the two other wheelbarrows using the parts from a third that we are going to recycle. I'm getting hungry and so I head inside to get lunch first.
It's 1:00 pm. 
I realize that I didn't pack a lunch, and so I head home to The Roost to grab a box of spaghetti and some alfredo sauce. I return to find Xylem putting the animals going to Outdoor School in her car and asking if someone would be there when she gets back with them after the lesson. I assure her that I'll be here, and I start making my lunch. I have two hours until my interview and so I look over my PowerPoint one last time while my water is boiling. Upon finishing my lunch, I head back outside to finish fixing the wheelbarrows. Once the fixed wheelbarrows are stored neatly next to the building and the tools are put away I look at my phone and see the time. It's almost time for my interview.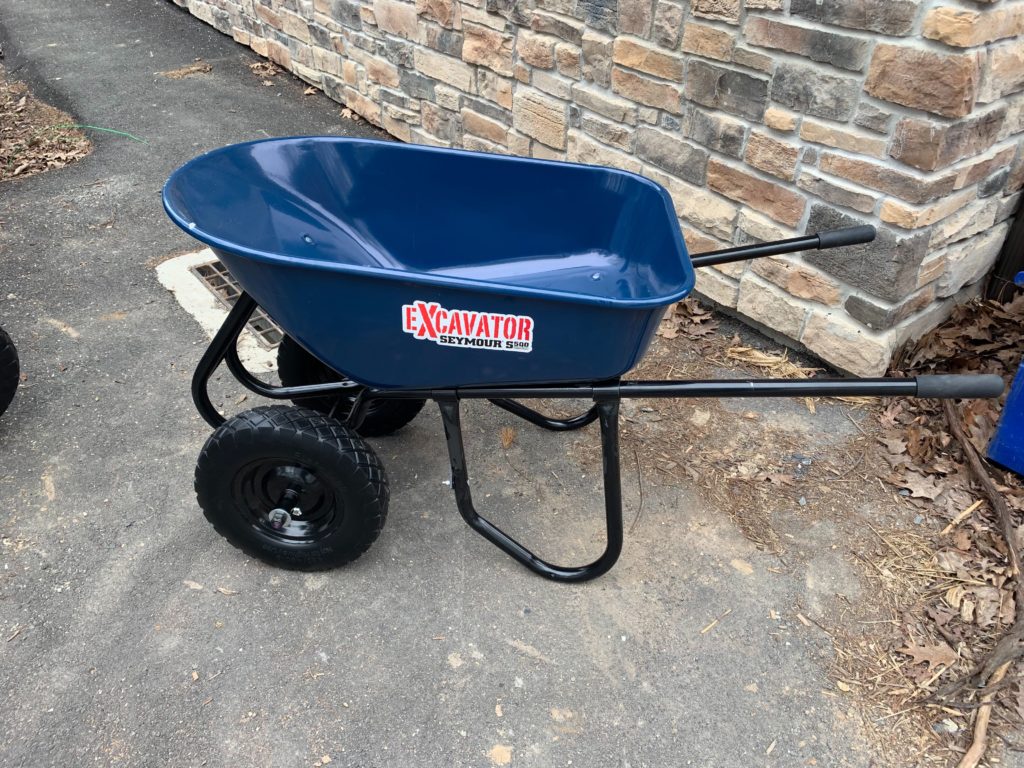 It's 2:55 pm. 
I've cleaned up and have Skype pulled up ready for the interview. I'm testing my microphone and camera on my laptop and looking at my PowerPoint one last time. I get the call. They give me the run down of the job, ask their questions, and I ask mine. I wrap up the interview with my PowerPoint presentation, thank them for the opportunity, and say goodbye. I take a deep breath and lean back in my chair; the stressful part of my day is over.
It's 4:57 pm. 
I walk out of the conference room and around the Center to stretch my legs after two hours of sitting in the same chair.  Most people have left by now to go enjoy the beautiful day. I check in with Josh and he asks me to lock up before I leave. I walk into the Discovery Room to see Rory and Lexi working on the canopy for the interactive model of a tree that will eventually stand there. I help them clean up and then walk around the building and start locking up. As I finish, I notice Xylem has returned with the animals, and so I help bring them inside and leave them with the animal care staff. I head on my way to have dinner with my brother and mother in Bellefonte.
It's 8:25 pm.
I head back over the mountain and stop by the Roost to grab some clothes and a contact case. I head to Camp Blue Diamond to try and make it there before campfire ends. I arrive and find Cardinal practicing a new song by the campfire. Everyone else is still on their night walk but will soon return. Cardinal tells a final story and sings one last song before we head back to our cabins for the night. The kids brush their teeth and some shower before we go to the cabin for lights out. Log turns off the light once all the kids are situated in their beds and we try to go to sleep.
It's 10:15 pm. 
I check my phone one last time to make sure my alarm is set for the next day, and then I slowly drift off to sleep.
It's 6:45 am.
I wake up the next morning, with a different schedule and different activities planned. As an intern, no day is ever the same and you do your best to keep up with the ever-changing schedule. The day I described was a long day, but it wasn't a normal day, nor was it even my longest day. We are given many amazing opportunities to help in all aspects and areas around the Center, and it's hard to pass those opportunities up. It means long days, but it also means lots of personal and professional growth. Thanks for reading, and I hope you enjoyed a day in the life of an intern!