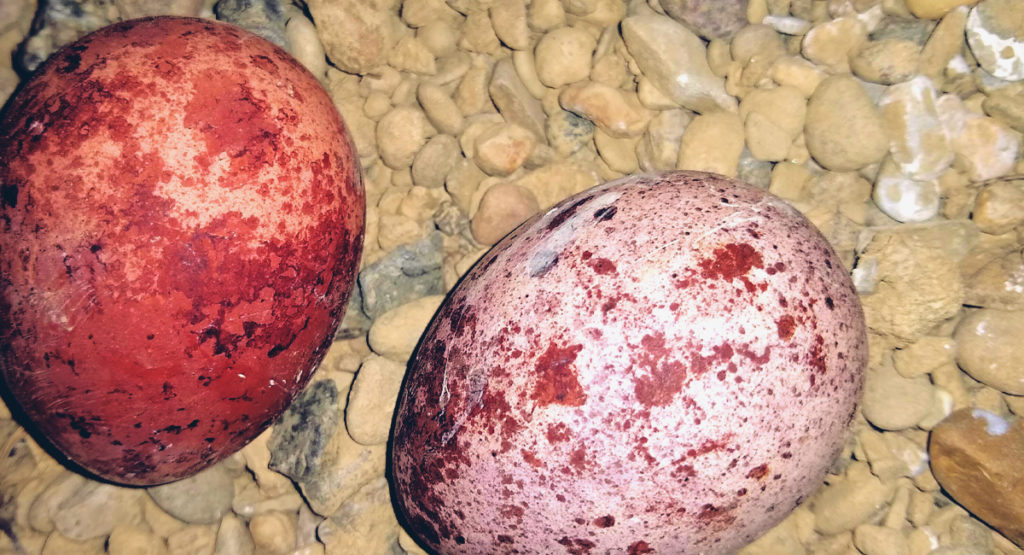 The Animal Care Program has exciting news. Susquehanna — Shaver's Creek's resident Peregrine Falcon — has laid her first egg on Friday, April 3, and another on Friday, April 10, and they're beautiful! Eggs take a lot of energy to lay, so we are making sure Susquehanna has plenty to eat. The fact that she has laid eggs shows us that she is comfortable and healthy in her current environment!
 
Peregrine Falcons typically lay an egg every two to three days and don't begin incubation until the clutch is complete. Susquehanna has begun to sit on the eggs, so we think that she may be done. She is still engaging in training sessions, catching her food out of midair, as Peregrines often do. Animal Care will work with Susquehanna on her terms and will provide her food in a free-feeding manner if she chooses to disengage. It's important to note that Susquehanna's eggs will not hatch — she does not have a mate, and Shaver's Creek is not permitted to breed raptors.
 
Did you know that Peregrine Falcons lay two to five eggs a year? And have you noticed the shape and color of Susquehanna's eggs? Peregrine Falcons generally lay on cliff edges and build their nest by scraping out a divot. Their egg is speckled to blend in, and the oblong/teardrop shape is to prevent the egg from rolling out of the nest.
 
If you've enjoyed learning about Susquehanna and her eggs, have you thought about becoming an Honorary Animal Caretaker? Providing a high quality of life to our animals is a top priority at Shaver's Creek, but it is very resource intensive. By becoming an Honorary Animal Caretaker, you can support the daily care, training, and educational presentation of our resident animals!