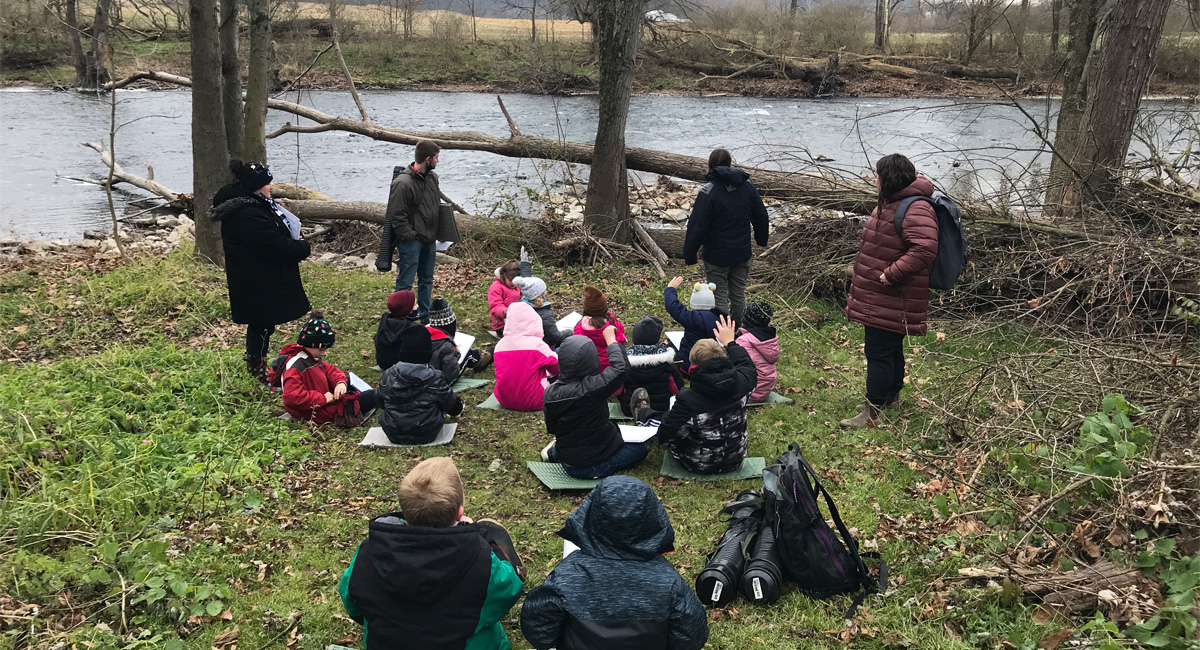 On a warm September day in 2021, a few short weeks after starting my position as an AmeriCorps outdoor educator, I found myself in the middle of the woods with a class of fourth graders on a field trip. I stood there as we were eating lunch, reflecting on how exactly this all happened.
Before coming into my position with AmeriCorps, I graduated from Penn State with a degree in early childhood education. I was always fascinated by the idea of teaching in the outdoors and moving learning beyond the four walls that so many students are used to. I had some experience teaching in the outdoors through student teaching and ski instructing, but nothing quite like what I experienced with the fourth graders on this field trip.
As summer turned to beautiful fall weather, clean, crisp air, and changing leaves, I noticed myself starting to change as well. I started growing more confident in my ability to teach in the outdoors and felt more comfortable interacting with students in this environment. I also became more conscious of my effects on the world around me.
By winter, the leaves had all fallen, the lake started to freeze over, and everything started to become more still. At the same time, my passion for outdoor education became clearer. I started to see the impact that outdoor education was having on the students and their lives. I saw students participate more, become more engaged with school and the outdoors, and make greater connections within their lives and the world around them.
As spring approached, the last storm left lingering sheets of ice across the brown grassy fields and the expanse of Lake Perez. When it began to thaw, spring flowers started to slowly bloom, as did the students' curiosity of the world around them. Students were making clear connections to things we had learned even three months prior and were eager to learn more. With the fourth graders, we took this foundation of passion and love for the outdoors and helped them develop action projects to help better their watershed.
Each class came up with their own action projects to help their local watershed; one to clean up trash, one to plant shrubs and trees, and one to install bird boxes. The students were excited to help the earth, and I began to realize the true impact of what I was helping to instill into the students. My time here has allowed me to become a better steward for the earth, and it was clear that translated to the students as well.
As my time with AmeriCorps is winding down, I'm reflecting on my time with the students and on the impact that Shaver's Creek and AmeriCorps have in changing the world for the better. I am forever grateful for my time here and everyone that helped to shape me into who I am today.