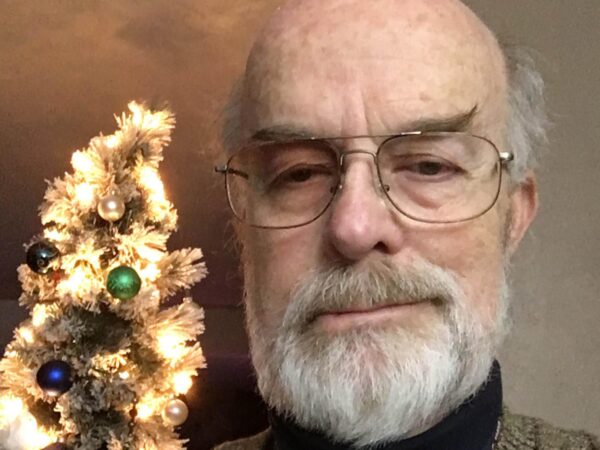 A longtime friend and generous supporter of Shaver's Creek, Mark McBride was recently chosen as the recipient of the 2022 Fischer Award of Distinction. The Fischer Award of Distinction recognizes friends, donors, alumni, and volunteers who have distinguished themselves through extraordinary service to advance the Penn State Outreach and Online Education (OOE) mission.
Mark is a retired senior research engineer from the Applied Research Lab (ARL) at Penn State. As a child, he spent years in tow at labs on the University Park campus with his father, who was employed at the University. After his father passed away, he was given an opportunity to work for the University at the age of 16 and later received a tuition reduction when earning his bachelor's degree and his Master of Science in aerospace engineering. He began working for ARL in 1968 and retired as a senior research engineer in 2005.
Mark said he appreciated all the opportunities he was given through Penn State and wanted to repay the University by establishing the "Mark W. McBride Endowment for Shaver's Creek" to provide funding in support of experiences that encourage students to see the value of science, technology, engineering and math (STEM) in conserving the environment. This endowment has supported the purchase of hand lenses, microscopes, water quality testing kits, notebooks, a water table, and much, much more for our School Program partnerships; enabled citizen science implementation and observation by way of Barn Owl nest box cameras and streaming services, as well as tools for hawk watch initiatives; encouraged and allowed for professional development opportunities for staff and graduate students; and aided the purchase of technology and equipment to further our mission and commitment to environmental, experiential, and STEM education.
"The tuition benefits my father earned allowed me to attend Penn State, and the engineering experiences I gained as a student led to a career spanning 40 years. This showed me that STEM is necessary to understand many natural and physical processes," Mark said. "I felt supporting Penn State Outreach and Shaver's Creek Environmental Center and establishing a STEM focus for young children was the best way to preserve the future of the environment and show kids that STEM is fun, interesting, and leads to understanding the world around them."
I view the work of Penn State Outreach as one of the most important functions of the University. The knowledge and expertise found at the University should be easily available to all. The internet and special areas like Shaver's Creek are ideal ways to provide this knowledge to the community.
We are grateful for Mark's support and commitment to Shaver's Creek and join the Outreach community in recognizing his significant contributions and this award of distinction. Thank you Mark!