The Discovery Room at Shaver's Creek has plenty for the whole family to explore — a place for fun and learning about nature! It's also home for our resident reptiles and amphibians.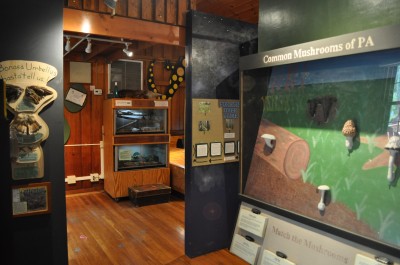 New interactive exhibits cycle through the Discovery Room on a yearly basis — many of which are created by students enrolled in the Discovery Semester. Current favorites include a light-up constellation "cave," an array of archaeological finds from the region, and a game where kids can try to "catch" fireflies! You'll also find our "Touch and Feel Table," a permanent display that invites you to discover various natural objects. Painted birds of prey suspended from the ceiling provide perfect practice for your bird identification!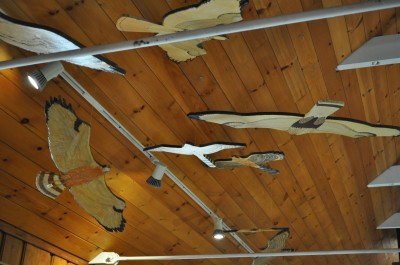 The children's loft is a secret hideaway of fun that the little ones can't resist. Upstairs in the loft kids can wear fun animal costumes and peruse our large collection of children's books.
During Kids Corner season, visit the Discovery Room to find a self-guided series of activities for children from the week's Kids' Corner program.
Shaver's Creek has a variety of native reptiles and amphibians that also reside in the Discovery Room. It's the perfect place to get a close-up look at a snake, turtle, frog, or toad. You can read all about them on our Reptiles and Amphibians page.