2019 Birding Cup
24-hour competition: Friday, May 3 at 7:00 p.m.–Saturday, May 4 at 7:00 p.m.
Wrap-up: Checklists must be submitted by 7:30 p.m. Saturday at Shaver's Creek
The Birding Cup, Shaver's Creek's annual fundraising tournament, is a contest among teams of birders to identify the most bird species in a twenty-four hour period in the central Pennsylvania region (Huntingdon, Centre, and adjoining counties). Teams must compete based on a set of Birding Cup rules, and the winning teams are awarded their prizes immediately following the contest at Shaver's Creek Environmental Center in Petersburg, Pennsylvania.
Birding Cup Pledges and Donations
Donations in 2018 went directly toward the renovation of new enclosures for the raptors. Our educational co-workers will be moving into brand new homes, more suitable for sunshine, daily care-taking, and wheelchair-accessible viewing.
Our fundraising goal for this year's Birding Cup is $15,000. Pledges may be made per bird identified or in a single donation, and donors may choose to support a specific team. We debuted a new fundraising platform last year with personalized pages for each team. Click the button below to donate and get to know the Birding Cup teams!
Birding Cup Team Entries
Rules and Guidelines of the Birding Cup
Teams must consist of at least three members (except for the Micro Cup).
Teams must follow the rules of The Birding Cup when participating.
Team entries should be submitted no later than four days prior to the start.
Team entry is free, however, since this is our only annual fundraiser, teams are asked to raise at least $100 in donations to the Birding Cup.
Birding Cup Checklist
Download the official Birding Cup checklist (PDF) to track bird species that you see during the Cup.
This completed checklist must be submitted by 7:30 p.m. on Saturday evening, May 4.
The ending ceremony returns to Shaver's Creek Environmental Center in 2018!  
Cup Categories
The Cup selects winning teams in five categories:
The Birding Cup goes to the team that identifies the most species overall.
The County Cup goes to the team that finds the most species while searching in only one county.
The Potter Mug is for the most species seen by a team with all members who have less than two years of birding experience.
The Birding Boot goes to the team that identifies the most species traveling only by nonmotorized means (walking, biking, canoeing).
The Micro Cup goes to a team of two people that identify the most birds seen in a single 1-mile diameter circle. Debuted in 2018! It's a great opportunity to eBird your day's experience.
New Fundraising Platform
Shaver's Creek is introduced a new fundraising platform for the Birding Cup last year. Each team is able to customize a personal webpage with more fun information about your team, see totals raised by all teams, and share the link for easy donations!
After completing the standard registration form, team captains will receive an email from Community Funded with login information for our new fundraising platform. (These emails will be sent beginning in April.)
The traditional pledge sheets are also available, but we encourage everyone to use the new platform.
For questions on this fundraising platform, please contact Justin Raymond at jraymond@psu.edu.
Volunteering
If you are not planning to be part of a birding team and would like to volunteer in some way, we would love to have you lend a hand! Some possible tasks include:
Friday of Birding Cup: Arranging tables and chairs, placing signage, sorting t-shirts, setting up food and welcome areas.
Saturday of Birding Cup: Food setup, parking, greeting teams/check-in, handing out t-shirts, team photos, counting bird checklists, reading final tallies, evening clean-up.
If you would like to volunteer, please contact Doug Wentzel via email at djw105@psu.edu or phone at 814-865-4123.
Past Results and Projects
Every year, our Birding Cup fundraiser supports projects that help shape and change our site, like the pond in the front yard and improvements along the lakeshore. 
View Past Results from the annual Birding Cup tournament and see examples of projects below.
2018: Brand-new enclosures for our resident birds of prey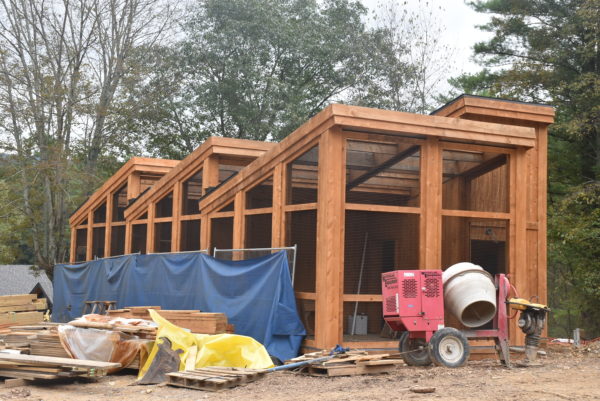 2017: Installing bird-friendly glass in our building and expansion project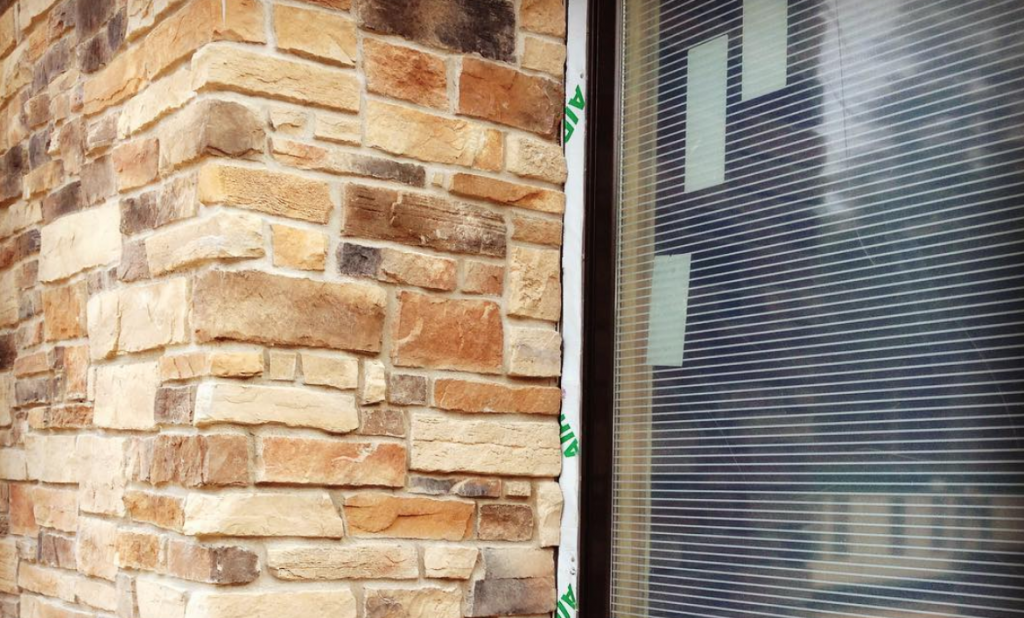 2016: Harvesting local wood from Stone Valley Forest for our expansion and renovation
2015: Farmland Raptor Conservation: Nest boxes installed around the community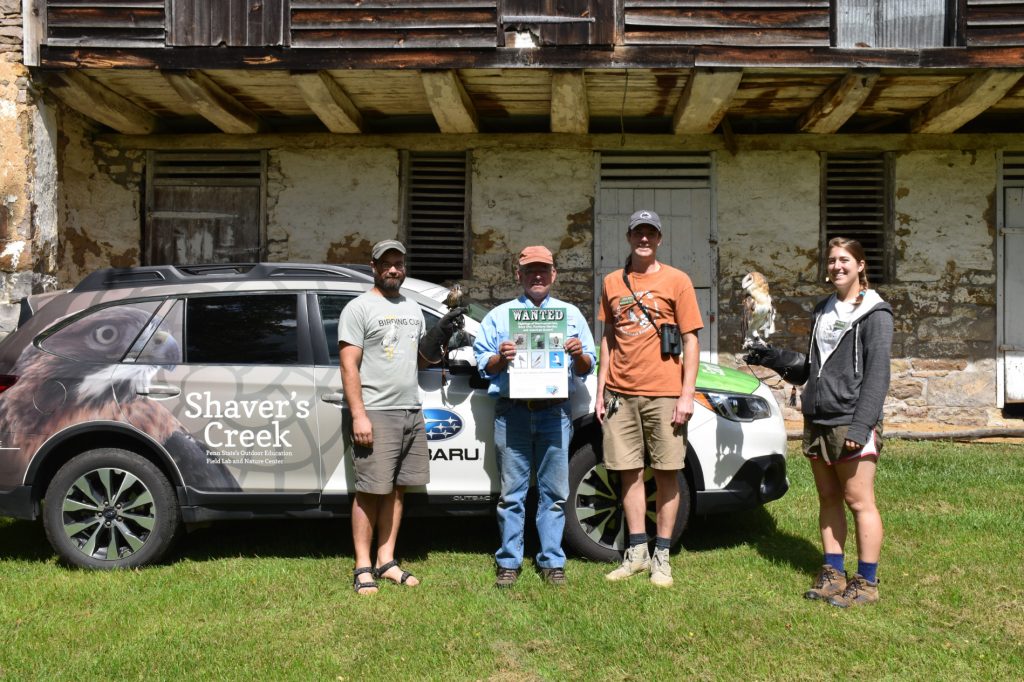 2014: Lakeside dock and stable shoreline by Sunset Point Pavilion


2012: Front yard pond