Shaver's Creek is your nature center. Membership is one way you can help us to sustain our efforts to bring high-quality programs, camps, courses, and festivals to central Pennsylvania. Read more about membership benefits here.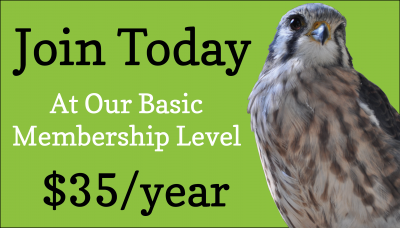 Shaver's Creek Membership Levels
We invite you to join one of our suggested "Raptor Flight" membership levels. If you are a current member looking to renew, all of the below links will also serve to renew your membership.


Membership Renewal and Other Ways to Become a Shaver's Creek Member
To renew your membership or become a member, please click a membership level button above to renew, join, or give online. You can alternatively fill out and submit this printable membership form. You may also become a member using Electronic Funds Transfer (EFT) or payroll deduction (for Penn State employees) by calling our Development Office at 814-863-8790.

Shaver's Creek Membership Benefits
Membership is a great way to stay connected to the Creek while helping to support the programs you've come to enjoy. Membership contributions allow us to keep admission to our facility FREE for visitors, and help support many free public programs throughout the year. Membership also helps us to care for our raptors and other animals and maintain our facility and trails. Members have the option to "round up" their membership contribution to put toward our endowment — the long-term support of the organization.
In addition to the immense benefit that your support provides for Shaver's Creek, all members receive:
discounts and an early registration period for our Summer Camps*
invitation to our free members' breakfast on Sunday morning of our Maple Harvest Festival
our periodic newsletter Shavings
reduced fees on select workshops and programs
discounts on purchases from the bookstore and gift shop at Shaver's Creek
satisfaction that comes from expressing a personal environmental ethic
membership privileges at hundreds of other Association of Nature Center Administrators (ANCA) Member Centers around North America
Additional benefits particular to our "Raptor Flight" giving levels include:
*Early camp registration is for members current as of the first of January before camp. To receive the camp brochure at the same time as the rest of our membership, renewals must usually be received by early December prior to the membership year. For new memberships (not renewals) received after January 1, you may register for camp during the nonmember registration period starting in mid-February, and can register early the following year, pending the renewal of your membership.

Endowment Giving
Members are always welcome to "round up" their contribution by giving above and beyond any of the suggested membership levels and add that amount to our Endowment. Look for the Endowment designation on the online membership form, and let us know what extra amount you'd like to add, become a part of our annual income — forever!
Shaver's Creek Membership Year
Our membership year is a calendar-year cycle, from January to January. This means that memberships will expire on December 31 of each year, and renewals must be made by early December to receive the Summer Camp brochure in early January.
New members joining during certain times of the year have the option to prorate their contribution for the first year of membership based on the following schedule:
April 1–June 30: 75%;
July 1–September 30: 50%;
October 1–November 30: 25%;
New membership on or after December 1 will be applied to the following calendar year.
"Shaver's Creek truly is a magical place… It would be a difficult assignment to pinpoint which audience gets the most out of the center: Is it the college student getting firsthand experience in sharing the natural world with children, the five-year-old child tapping a maple tree for the first time, or the community volunteer guiding a group of families from station to station along a magical trail?"
— Jim Campbell, Shaver's Creek member since 1995