We are excited to announce that we're hosting our first-ever live Music Festival here at the Center on Sunday, September 26 from 11AM to 8PM. The festival is a fundraiser to support the Creek's efforts to build a covered stage that will host future events like this as well as provide teaching space for our educational programs. The Shaver's Creek Music Festival will feature six regional, high-energy, acoustic, Americana and bluegrass bands as well as several local food vendors.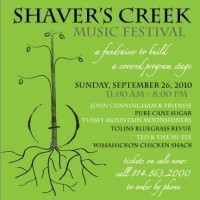 The live music lineup for the day includes local acts John Cunningham & Friends, Pure Cane Sugar, Tussey Mountain Moonshiners, Tolins Bluegrass Revue, and Ted & the Hi-Fi's, and will culminate with a rocking performance by Philadelphia's own Wissahickon Chicken Shack. According to Shaver's Creek Assistant Program Director Paul Brigman, "These bands are going to be lively and energetic. People should plan to bring their dancing shoes!"

 When you get hungry from all of that dancing, food vendors will be on hand to fill your belly and quench your thirst, including Doan's Bones Barbeque, Standing Stone Coffee Company, The Enchanted Kitchen, and Gemelli Bakers, who will be onsite from 12-6PM with their portable pizza oven. A percentage of each vendor's sales will go to support the covered stage project. (Be sure to bring Cash to the event, as food vendors will not have Credit Card access.)
 
Tickets are on sale now, and cost $20 for adults, $15 for students and seniors, and $10 for children ages 6-12. Children ages 5 and under are free. To pre-order tickets call us here at Shaver's Creek at 814-863-2000, or stop by the Creek seven days a week, 10AM-5PM. Tickets are also on sale NOW at Appalachian Outdoors in State College and Standing Stone Coffee Company in Huntingdon. Only a limited number of tickets are available for this event so purchase yours today!

Some important things to keep in mind for the Music Festival:
   – This event is rain or shine (barring unsafe weather).
   – As it is a fundraiser, there will be no ticket refunds.
   – Bring chairs or a blanket to sit on.
   – Bring a flashlight (for the walk to your car) if you plan to stay past sunset (7:03 p.m.).

   – It is an alcohol-free event.
   – Smoking may be permitted in designated areas, but we ask that you properly dispose of butts.
   – No dogs are permitted at the event.
   – An ambulance will be on hand in case of emergency.
   – We encourage participants to support the local food vendors on site rather than bringing outside food. Please bring CASH and know that a portion of their proceeds go towards supporting our covered stage project.
   – Parking is limited at Shaver's Creek, so please CARPOOL when possible, and be prepared to park at Stone Valley Recreation Area if our lot is full. You may take the short 10 minute walk from there, or take advantage of our periodic shuttles between Shaver's Creek and Stone Valley.

We apologize if these policies cause any inconvenience. Please call us at 814.863.2000 with any questions or concerns.
The tentative line up for the festival is:
11:00-12:00   John Cunningham & Friends
12:30-1:30     Pure Cane Sugar
2:00-3:00       Tussey Mountain Moonshiners
3:30-4:30       Tolins Bluegrass Revue
5:00-6:00       Ted & the Hi-Fi's
6:30-8:00       Wissahickon Chicken Shack
For more information on Shaver's Creek programs, visit www.ShaversCreek.org.