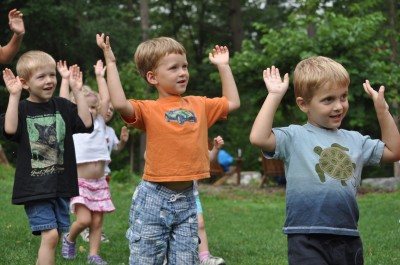 Here at Shaver's Creek, we are gearing up for the exciting new season of Kids Corner! This season's theme, 'Nature on the Go', will give you and your child the opportunity to explore and discover different methods of movement that are utilized by our very own native wildlife of Pennsylvania. Guided by our enthusiastic staff of environmental education interns, through hands on activities, you and your child will encounter the unique ways that animals dig, climb, swim, walk, and fly in the great outdoors!
Our first Kids Corner program of 2013 is next Wednesday, February 13, from 10 a.m.–12 p.m., and takes place each consecutive Wednesday through our final program date on March 13. Feel free to bring along a zero-waste lunch to enjoy during the program, and stick around afterwards to explore our raptor center and discovery room exhibits. We look forward to seeing you out at Shaver's Creek for this moving and grooving new season of Kids Corner. These programs are FREE thanks to the support of our generous members and Growing Tree Toys.
Never stop discovering!
~ Amy 'Chickadee' Phillips, Spring 2013 Intern