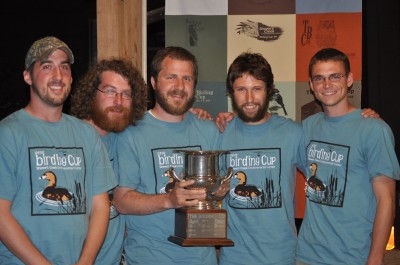 Whether you have gone birding or not, you have probably enjoyed the captivating sight of American Robins scavenging for insects or Turkey Vultures circling and wobbling overhead.  As a newer birder, I too have enjoyed these delights and have recently begun to focus my energy on preparing for an upcoming event at Shaver's Creek.
Bird enthusiasts throughout Pennsylvania are currently prepping for Shaver's Creek's Annual Birding Cup, which will be held from Friday, May 3rd at 7: 00 p.m. through Saturday, May 4th at 7:00 p.m.  The Birding Cup is a 24-hour birding competition where teams attempt to spot the most species possible.  As a newer birder and intern at Shaver's Creek, I look forward to participating in my first Birding Cup.
My newfound love of birding has been developed through working as an intern at Shaver's Creek last summer and this spring.  Love for birding is literally contagious and nearly inescapable around the center.  As staff members like to say, "We brake for birds." Sometimes that means pulling off on the side of the road or stopping mid-conversation to check out an intriguing bird.  The front lawn alone offers a stupendous setting to begin birding. This winter I developed a solid foundation of birds by marveling at the guests of the bird feeders each day.  After knowing what to look for—coloring, patterns, modes of movement, wing and tail shape—and securing my knowledge of a few songbirds, it became much easier to identify other birds in the field.   Currently, I'm focusing on paying attention to birdcalls by using fun rhymes.  For example, the Carolina Wren says, "Tea kettle, tea kettle!"
Through a few birding excursions beyond Shaver's Creek, I deepened my knowledge and passion of birding.  Driving down back roads of Huntingdon County, I've enjoyed several impressive raptor sightings.  In early March, I had the opportunity to visit Middle Creek Wildlife Management Area for a professional development trip.  The group collectively spotted 41 species. Highlights included thousands of migrating snow geese and tundra swans, seven bald eagles, and a short-eared owl.  Each time I go birding now, I have the opportunity to see a new first bird.  Just the other day, I saw my first Osprey and Kingfisher by Toftrees Golf Resort and Conference Center.  Oftentimes, the best bird sightings happen while driving along the road and pulling over to whip out the binoculars for a better look.
With the Birding Cup just two weeks away, my teammates and I are making some serious preparations.  These include scouting for prime spots, plotting a route, stockpiling snacks, learning more about birds (especially birdcalls), gathering donations, and deciding upon a team name.  My team will be competing for the Potter's Mug, since at least half of our members have 2 years or less of experience.  Other categories include the titular Birding Cup, for teams who see the most birds overall; the County Cup, for teams who bird within a single county; and the Birder's Boot,  for those who bird by foot, bike, canoe, or sasquatch.
Whether you have been birding for years or are new to the sport, I encourage you to join in this year's Birding Cup.  You are also welcome to show your support for birding and Shaver's Creek by pledging a donation.  Funds raised through this year's Birding Cup will go towards our Long-term Ecological Reflections Project (LTERP), including an "Aerie" reflection garden in the raptor center.  Last year, our goal of $12,000 was met, matched by the Office of Physical Plant's Beautification Grant, and added to by donors, and we were able to complete a new and improved front yard pond!  (To see a cool timelapse video of the pond's construction, check out our video, Pondlapse.)
Please consider supporting us this year by sponsoring your favorite team of birders with a pledge per species of bird identified or with a flat donation. You can send in your donation or pledge online by visiting this page!
One of this year's Birding Cup sponsors, Envinity, has pledged $5.00 in return for every "Like" they receive on their Facebook page between today and this Thursday, May 2, at 5:00 p.m.  Lend us a hand and give them a "Like!" You can visit their page at https://www.facebook.com/pages/Envinity/118262608231577.
For more details on the Birding Cup, including how to participate, donate, and a full list of this year's sponsors, check out the Birding Cup page.
For now, until the Birding Cup, and beyond I'll keep living by braking for birds and living by the motto, "Any bird, anytime, anywhere." I'm happy to say that I am hooked for life and will bring my eagerness and binoculars wherever I venture.