A record number of participants made the 2013 Birding Cup a fantastic event! 105 birders represented 23 different teams, bound together in a 24-hour competition to find the most birds.  Even though a number of species hadn't returned from migration yet, in total, birders discovered 169 species!
The Birding Cup is Shaver's Creek's annual fundraiser.  Last year, teams helped us raise over $12,000, which was matched by Penn State's Office of the Physical Plant, and allowed us to construct a new pond in our front yard.  (Have you seen it?  Check out our cool time-lapse video of its creation, "Pondlapse.")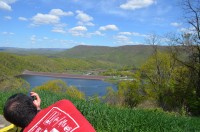 This year, we're hoping to install an "Aerie Garden" in our Raptor Center as a jumping off point for our Long-term Ecological Reflections Project. We're well on our way to making that a reality, with over $8,500 raised to date.  We can use your help!  If you haven't yet made a donation to the Birding Cup, please visit our Pledges & Donations page.  Many people choose to donate per species, but you can donate whatever amount you like!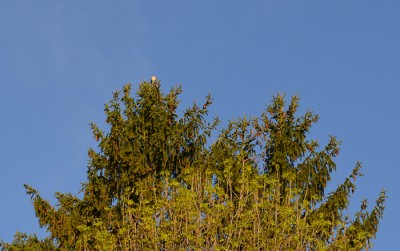 We'd also like to thank our 2013 Birding Cup sponsors: Envinity, The Tavern Restaurant, Appalachian Outdoors, Envinity, Purple Lizard Maps, The Tavern Restaurant, Dix Honda, Wiscoy for Animals, Lost Creek Shoe Shop, Nikon, and Benjamin's Catering all provided donations, prizes, and food for our weary birders.  Thank you!
For many, the Birding Cup is just as much about having fun and raising money for Shaver's Creek as it is vying for one of the four trophies. But this is a competition, and there are winners!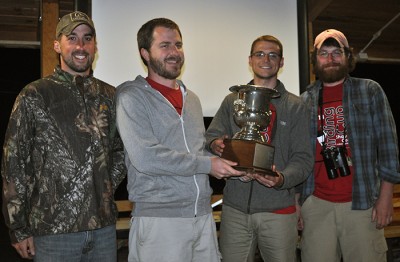 In their second year competing in the Cup, the Nemesis Birders defended their title and remain overall Birding Cup champions! They marked off an impressive 140 species. The Nemesis Birders consist of Drew Weber, Alex Lamoreaux, Nate Fronk, Josh Lefever, and Ian Gardner.  Congratulations!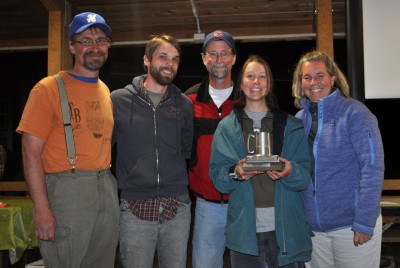 The County Cup—for teams who find the most species in a single county—goes to our homegrown team Bad Optics!  With 111 birds found, Laurie and Mark McLaughlin, Doug Wentzel, Matt Shumar, and Molly McDermitt keep the trophy for one more year as well.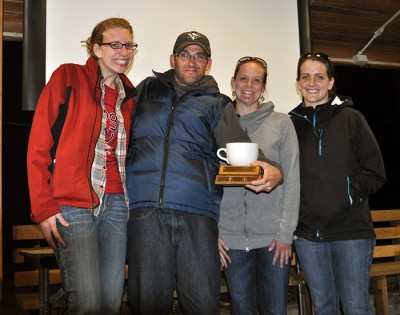 The Loonatics racked up 97 species to win the Potter Mug, competing against other teams whose members have an average of less than two years of birding experience. Congratulations to team members Melissa Freed, Clinton Rupeka, Liz Short, and Justine Weber!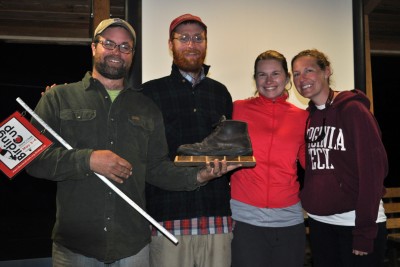 Finally, the Birding Boot, for those teams who commit to human-powered transportation only for the entire 24 hours, was championed by 101 Ways to Use a Shoveler. Jon Kauffman, Matt Marsden, Lucy McClain, and Julie Dahl managed to find exactly 101 species for the win!
Next year marks the 25th anniversary of our birding fundraisers (Pledge-a-Bird began in 1990). We hope you're anticipating it as eagerly as we are!