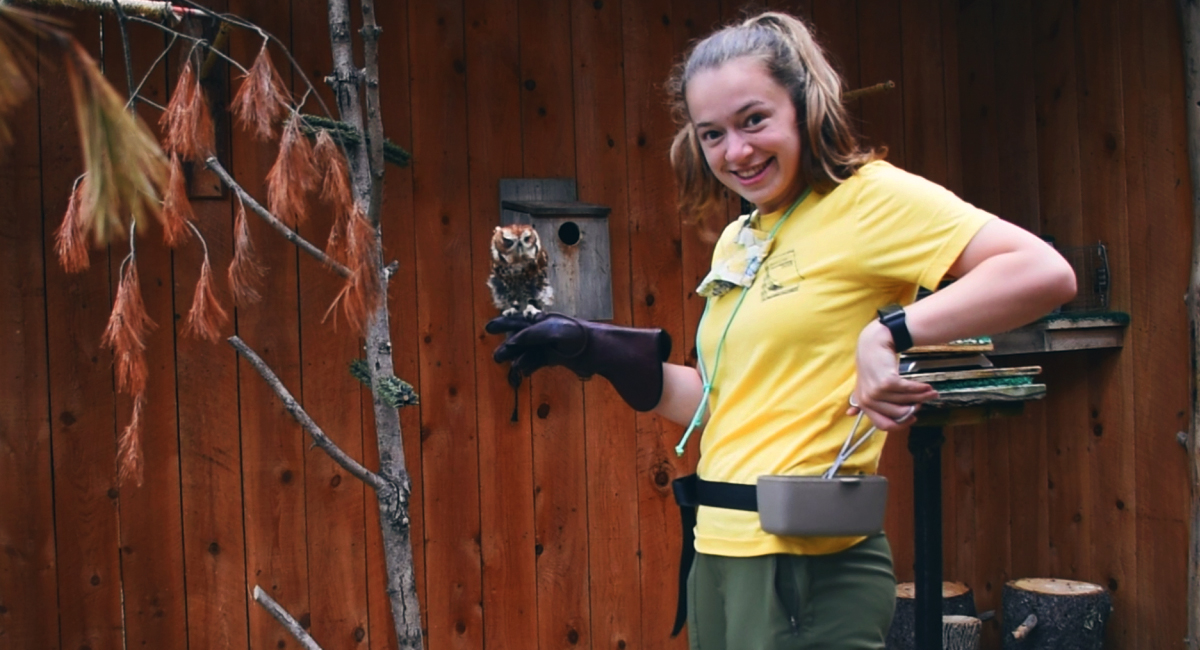 In January, I became an environmental education intern. As a certified teacher, my decision to join the team was primarily due to opportunities to teach school programs, teach at Outdoor School, or teach Kids Corner programs. Never did I truly imagine I would get to "teach" an owl.
During the first two weeks of training, I got to meet with the animal care team and learn a bit about the natural history of the birds of prey, amphibians, and reptiles that we consider our animal ambassadors and coworkers. As an avid animal lover, I was thrilled to get to work around each of these animals, stand outside enclosures, and tell visitors a little about some of the species we had at the center. I enjoyed helping visitors find our hellbender, one of the largest salamanders in the world and also our state amphibian, and getting to talk about conservation, bioindicators, and biodiversity. Each time I met with the animal care team those first few weeks, they reminded me that if I was interested in being part of the team to let them know by the end of the month. I debated the decision since I knew my schedule would be pretty busy with education programs but, in the end, I decided it was an experience that would not often be offered, and it would be worth it even if it meant putting in extra hours.
Over the next few months, I completed online trainings, got my fishing license (necessary to handle some of our herps!) and completed the ten modules of training that our animal care team set up in order to make sure all volunteers have a thorough understanding of animal husbandry and training. I learned so much and eventually was paired with an Eastern Screech Owl named Rufous to work with each week and train.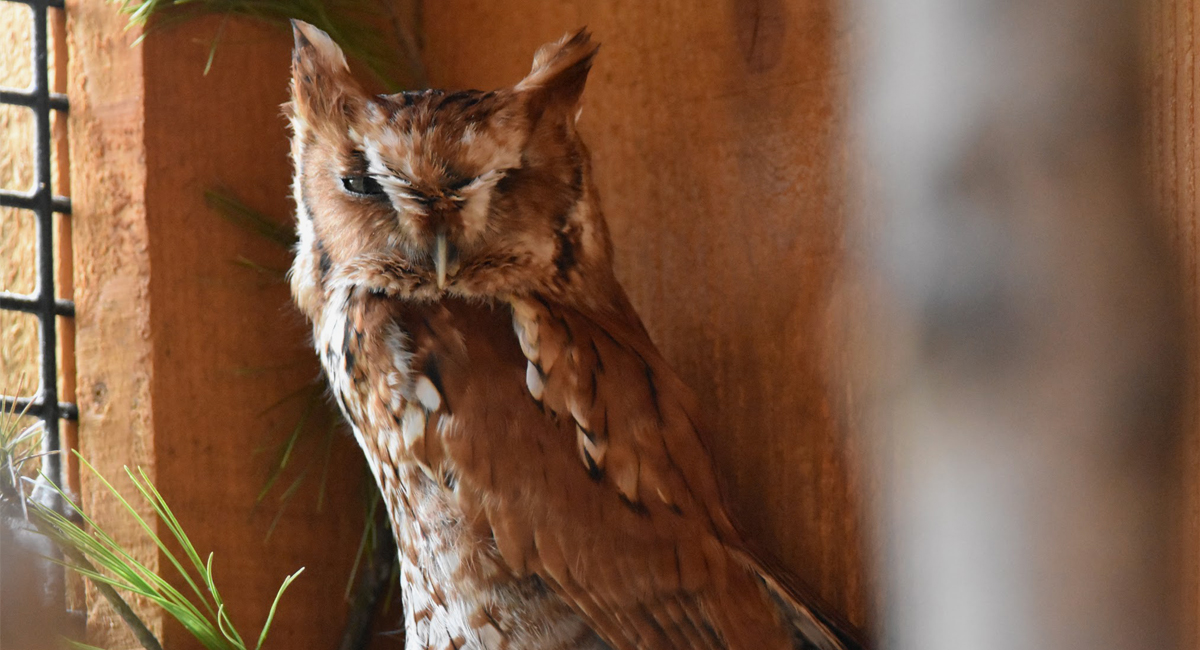 I was thrilled. Rufous is the smallest owl that I had ever seen and weighs only a bit more than a stick of butter. A lot of people who see Rufous think that he is a baby, but Rufous has been with us for over eighteen years and is probably as old as I am! His name comes from the fact that he is a reddish or rufous color which is one of the three color morphs that Eastern Screech Owls can be.
Rufous (and the rest of the animal care team) have taught me so much more than just how to care for an owl or how to train an owl. They have taught me how to look for signs of comfort and stress, and while we mostly discuss it in terms of birds, I see it in all aspects of my life. I know that my attentiveness to body language will help me to be a better educator because I know that a child will not learn effectively if they are uncomfortable or stressed because of an outside factor — maybe they fell on the playground or their parents were upset about something, or maybe they are hungry. I also view wild animals differently and often pay closer attention to my bird feeders, noting the unique personalities of birds even within a species.
My work also helped me to change my view of zoos. Growing up outside of Philadelphia, I loved the zoo, but I saw it as a tourist attraction. I often wondered what I was supporting by going to a zoo where animals lived in enclosures. Here, I learned so much about all that goes into having animals in human care and why they are here. Our animals, while once wild, were deemed non-releasable, often due to an injury caused by human interactions such as car strikes or power lines, and came to live here as animal ambassadors. With the help of our animal ambassadors, we are able to educate others and prevent similar disruptions from happening to other wild animals. Our animals have robust, engaging lives with plenty of room and enrichment to stimulate their minds and natural behaviors. Throughout the year, you can see our animals receiving different kinds of enrichment, using natural hunting skills to catch their food and working daily in training sessions which vary individual to individual. This experience has allowed me to grow even more appreciation for places like Shaver's Creek, wildlife sanctuaries, rehabilitation sites, and other zoological parks.
Beyond my work with Rufous, I have gotten to know the birds, reptiles, and amphibians that are our animal ambassadors so much better. I have learned a lot about identification from my close encounters, as well as about behavior. I truly believe that this experience has made me a better naturalist and citizen amongst the many species that inhabit the world. I find myself often discussing the importance of vultures with others or helping friends identify birds and herps. My desire to conserve and preserve our natural world feels even more personal because of my connection with these animals. If you are interested in supporting our Animal Care Team and animal ambassadors, consider becoming an Honorary Animal Caretaker!