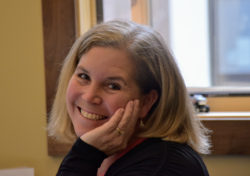 The Maple Harvest Festival is back after a two-year hiatus! To mark the occasion, we caught up with Laurie McLaughlin, who oversees the festival in its entirety. She's in charge of everything a festivalgoer might see, all the planning involved, and even teaching AEE 297: Interpreting Maple Sugaring to Families.
Laurie shares some cool stories about the history of the Maple Harvest Festival and also looks forward to the future. Read on to learn more about this Shaver's Creek festival steeped in tradition.
What's your history with the Maple Harvest Festival?
LAURIE: The first festival was in 1984. Back then, it was a lot different — twenty or thirty people came out to walk through the sugar bush and then they were served pancakes. I started at Penn State as a student the following fall in the Recreation & Parks program but didn't actually help with the festival until I returned as a full-time staff person.
In the early days, the festival was really small and mostly run by the full-time staff and volunteers. None of my class work or programming did anything with maple sugaring, which — when looking back — is always a surprise. I think we were just involved in so many other things! I moved to Vermont after school and came back a few years later to visit the festival. By then, Shaver's Creek started adding more programming and interpretive experiences like the cultural history station — and I was like, "Wow, why didn't I do this when I was a student?" So, it started to slowly evolve. Then, I came back to Shaver's Creek in summer of 1993 and started leading the Maple Harvest Festival in 1994.
How did the festival evolve while you were away?
LAURIE: Well, they built the really cool Sugar Shack in 1985. My adviser, Jerry Elliot, started teaching students about the maple sugaring process, and they would set up several interpretive stations to teach the public about the process. The program started off serving pancakes and waffles, which went away for a few years, then they came back — thank goodness! Then, in the late 80s, the festival was split into two weekends — an old-time festival one weekend and a modern-day one the next. When I came back, one of my first decisions was to combine those weekends into one big festival.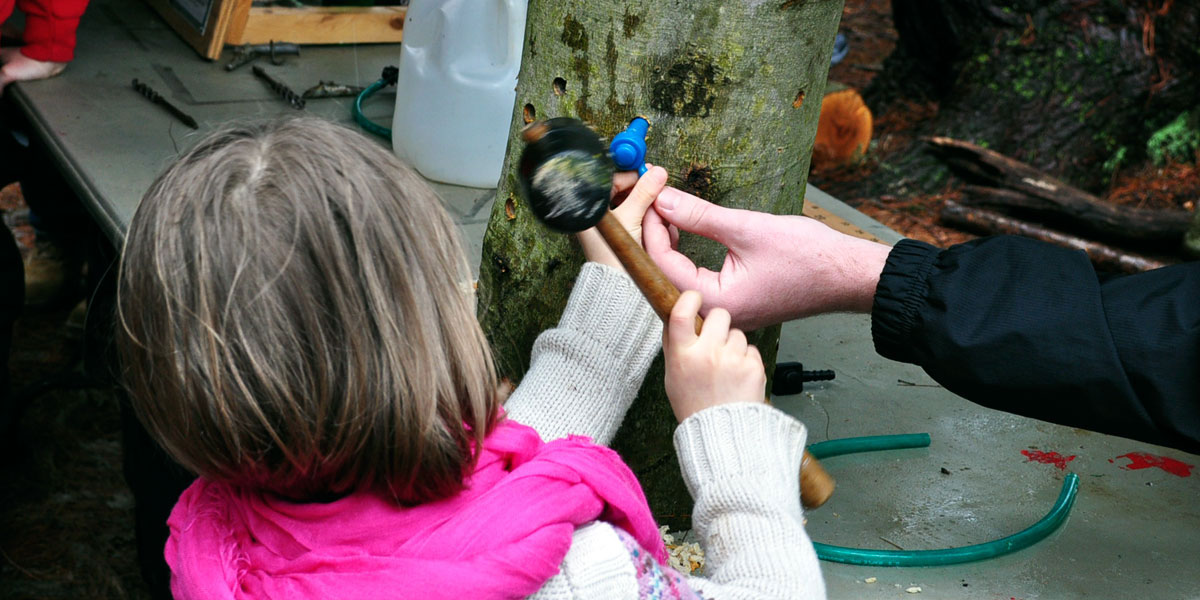 Any cool stories from those days?
LAURIE: There was a massive blizzard in 1993 — several feet of snow. Staff couldn't drive the roads to get to the maples to collect the sap. Jeff Feldman, who was the festival director at the time, knew of some folks who owned sled dogs. So, they brought their sled dog team and hauled all the sap from the sugar bush to the center!
How have you grown the festival since you returned in 1994?
LAURIE: In the beginning, the festival was organized and carried out by Shaver's Creek staff and a variety of volunteers. But it was all-hands-on-deck and everyone loved coming together to celebrate this first spring harvest. It was pretty small, maybe a few hundred people over the course of a weekend.
I think it was 2002 when I offered the first Maple Harvest Festival class to Penn State students, and then it became part of the cultural history class I taught as part of our SEED semester. Incorporating students more intentionally has been a big part of the growth. We've also streamlined the festival — you know, less is more. There used to be crafts and activities, bird walks, forest walks — all this programming happening simultaneously. We've made it more about the interpretive trail, more about learning how to maple sugar as an industry, and of course a lot about the celebration of community — and pancakes!
What's your favorite memory from your time?
LAURIE: There was another year with a lot of snow — I was so worried no one was going to come. In fifteen-degree weather, with a lot of wind, we still had over a hundred people show up. Beforehand, we had to hand shovel the entire interpretive trail — all of us, the entire staff — so visitors could walk it the next day!
Weather not only affects visitors, but it also affects syrup production. In 2012, our season was only two-weeks long because it got so warm so early. Syrup production was reduced by forty percent that year.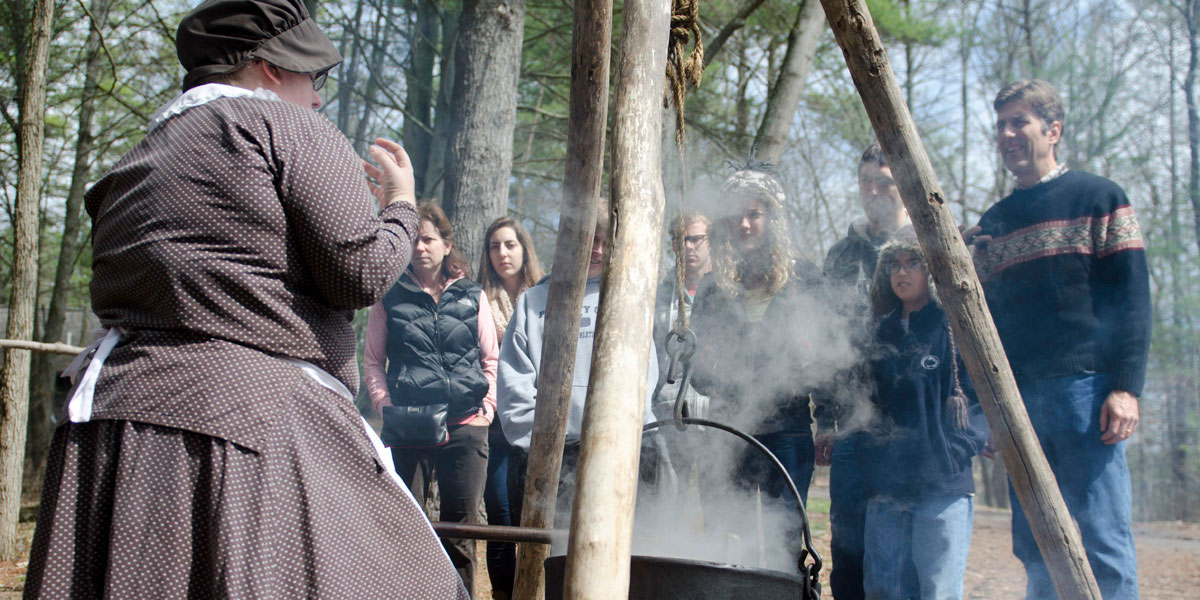 What's up with the costumed interpreters?
LAURIE: The costumed interpreters are a really fun part of the festival because it's a really unique way to teach and learn. The students are dressed in character and teach as first-person interpreters, portraying life back in 1847. The interpreters share the story of how people native to this area and those in colonial times collected sap and display some of their inventions. It's interactive and engaging for visitors and helps set the tone for the festival.
What was it like to have to put the festival on hold in March 2020 in response to the pandemic?
LAURIE: It's such a labor of love, and you put so much effort into something that gets put on hold for what you think might be two weeks but ends up being two years — it was really hard. So many people put so much time and effort into it, and you're so excited to see the outcome of all this energy. And there was the stress of, "How do I decide this, and who am I letting down?" Now, in retrospect, it was a no-brainer.
A lot of past volunteers I've been reaching out to are so excited that the festival is back, so now there's a lot of energy around people wanting to come back. I'm excited for everyone to come together and enjoy the festival, this place, and our community — I'm excited to offer that opportunity again.
What are you looking forward to most about the return of the festival?
LAURIE: Community. People, past and present. Seeing the students teach and engage with the public in a new way that they may not be used to. Just connecting with our own Shaver's Creek community and all those who come back to enjoy this place. It's the people that make it fun.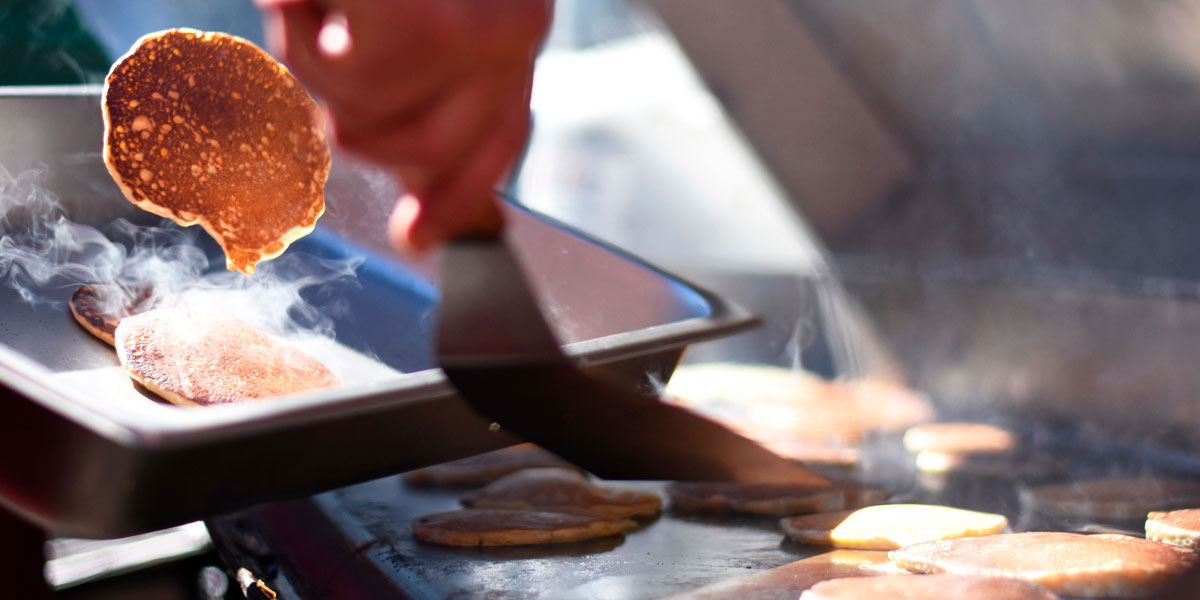 What can festivalgoers expect this year?
LAURIE: They can expect to go away with an engaging learning experience that helps them to learn more about the art and science of making maple syrup. But, also, they can expect to feel a sense of place and say, "Wow, I can come back here, and I want to come back here. This is my place." It's not just about syrup; it's about Shaver's Creek being a place for everyone — and really good pancakes!
Learn More
The Maple Harvest Festival is scheduled to take place March 26–27, 2022, and tickets are on sale now. The weekend is not possible without the help of volunteers (pancakes and syrup provided)! To purchase tickets or explore volunteer opportunities, visit the Maple Harvest Festival page.