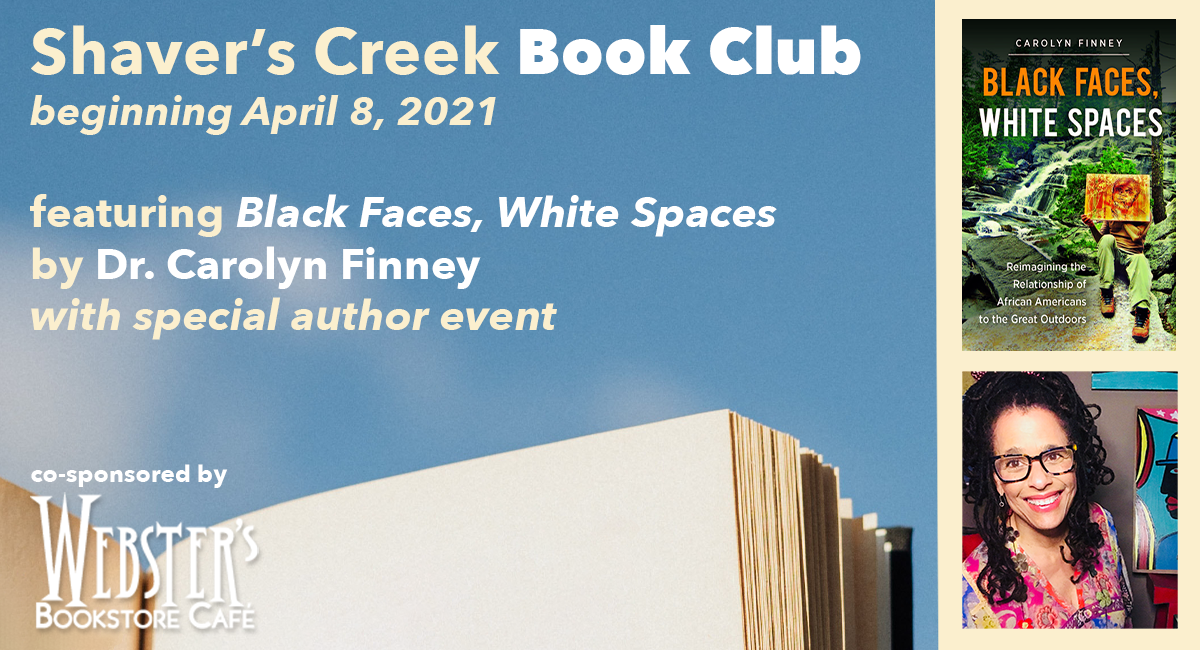 Shaver's Creek's first-ever book club will conclude with an exclusive meet-the-author event!
Registration required to participate. 
In Black Face, White Spaces, Dr. Carolyn Finney dives deep into the under-representation of African Americans in nature, outdoor recreation, and environmentalism through the lenses of environmental history, studies on race and culture, and geography.
Starting on April 8th, participants will meet virtually once a week for four weeks for in-depth discussions led by our very own team development facilitators. Dr. Carolyn Finney will join us for the last meeting to engage in an intimate and thought-provoking conversation. Attendance for this special meet-the-author event will be limited to book club participants. Meetings are held Thursday evenings from 7:00–8:30 pm via Zoom.

These meetings are meant to provide spaces for thoughtful and honest conversation. Hostility of any kind will not be tolerated.
This book club is free and open to the public thanks to the generous support of Shaver's Creek members and through a wonderful partnership with Webster's Bookstore Cafe. All that is required to participate is a copy of the book. 
About the author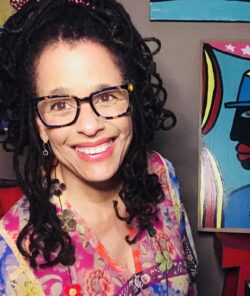 Carolyn Finney, PhD is a storyteller, author and a cultural geographer. She is deeply interested in issues related to identity, difference, creativity, and resilience. Carolyn is grounded in both artistic and intellectual ways of knowing — she pursued an acting career for eleven years, spent five years backpacking through Africa and Asia, and lived in Nepal which changed the course of her life. Motivated by these experiences, Carolyn returned to school after a 15-year absence to complete a BA, MA (gender and environmental issues in Kenya and Nepal) and a PhD (where she was a Fulbright and a Canon National Science Scholar Fellow). Along with public speaking, writing, media engagements, consulting & teaching, she served on the US National Parks Advisory Board for eight years. Her first book, Black Faces, White Spaces: Reimagining the Relationship of African Americans to the Great Outdoors was released in 2014. Recent publications include Self-Evident: Reflections on the Invisibility of Black Bodies in Environmental Histories (BESIDE Magazine, Spring 2020), and The Perils of Being Black in Public: We are all Christian Cooper and George Floyd (The Guardian, June 3rd 2020). She is currently working on a performance piece about John Muir (The N Word: Nature Revisited) and is the new columnist at the Earth Island Journal while doing a two-year residency in the Franklin Environmental Center at Middlebury College as the Environmental Studies Professor of Practice.
Get your copy of Black Faces, White Spaces
Several options to access the book include:
Ordering a copy from our local partner Webster's Bookstore Cafe here
[Penn State students and staff] accessing an online copy of the book for free through Penn State libraries
or by purchasing the book from your own local bookstore or another retailer of your choosing
Need a hand?
Our local partner, Webster's Bookstore Cafe, is providing a set amount of free copies to anyone who would like to join us and is otherwise unable to access the book using one of the options listed above. If you would like to receive one of these copies, email Olivia in confidence at ogs5011@psu.edu. The deadline for requesting a free copy of the book is Friday, March 26.
Registration is required to participate. Those who register will receive via email important information such as discussion questions and links to the appropriate Zoom room — look for emails with more information closer to the program's start date. You may register below.
Register for April 8, 2021
Online registration is closed.